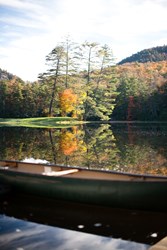 Cashiers, NC (PRWEB) August 30, 2013
This fall, why gaze at any old tree when you can lay your eyes on some true champions? It's true, trees can and do win awards, and there is a deciduous dynasty located in a tiny corner of Western North Carolina on the estate of the historic High Hampton Inn that is sure to produce some regal fall foliage this October. And, here's an insider's tip, save some green when you visit with one of the resort's special mid-week fall foliage packages that include all meals and more with any two-night or longer stay during a Sunday through Thursday, starting at $245, double occupancy.
On the 1,400-acre High Hampton Inn estate, century-old trees planted by 19th century botanist and surgeon William Halstead include numerous World, National and State Champions as recognized by the North Carolina Forestry Service and the North Carolina Champion Big Tree Program sponsored by the NC Department of Agriculture.
Follow in the footsteps of American Forest's Big Tree Hunters Byron Carmean and Gary Williamson to see some award winning fall color on High Hampton Inn's "Tree Trail of Champions."
North Carolina State Champion Black Locust and Bottlebrush Buckeye turn rich gold and yellow, as do the State Co-Champions Cinnamon Clethra and Witch Hazel.
For the vivid orange and red colors of fall, the State Co-Champion Sourwood is one of the first trees to turn colors in the East, as is the State Champion Alternate-leaf Dogwood. Though it drops its leaves, the State Co-champion Mountain Winterberry makes dramatic statement in fall and winter with its plethora of bright red berries
"Fall leaf predictions for Western North Carolina call for a good year," says Clifford Meads, General Manager of High Hampton Inn. "If September stays cool and dry, the thick foliage produced by a rainy spring and summer, will create an abundance of color. Reports are that the upper elevations on the Blue Ridge Parkway are already seeing some color; so from now through the end of October, there should be something to see."
In addition, the resort's 1,400-acre estate is blanked with an assortment of trees that give visitors an eyeful of colorful foliage, including the Ginkgo, Bald Cyprus, a fiery Copper Beech, Maples, and Oaks. Evergreens worth a look include the World's Largest Fraser fir and State Co-Champions Rosebay Rhododendron, Umbrella Magnolia, Mountain Laurel and Carolina Hemlock.
From Hampton Lake and the mountain golf course to miles of hiking trails – with some that lead to mountain tops for amazing views, there are as many ways to take in the fall foliage as there are specimens of trees.
The "Bear Shadow" is another natural phenomenon that is not to be missed. During the last two weeks of October, as the sun sets behind Whiteside Mountain, a perfect image of a black bear can be seen dancing across the tops of the colorful trees. Guests can end their day of breathtaking views and exploration by receiving High Hampton's comforting hospitality. Cozy up by the crackling fire and enjoy a warm beverage that will warm the body and soothe the spirit.
About High Hampton
The historic High Hampton Inn & Country Club, listed on the National Register of Historic Places, is a classically rustic stone-and-wood mountain inn overlooking the spectacular scenery of North Carolina's sliver of the Blue Ridge Mountains. Amenities at this 3,600-foot elevation, 1,400-acre, 117-room resort (with lodge rooms, cottages, and cabins, all with private bath) include myriad seasonal events (golf and tennis clinics, wildflower workshops), an 18-hole George W. Cobb-designed golf course, a full dining with three sumptuous buffets daily, six tennis courts, and a 35-acre lake for swimming, boating, fishing, and other water-related activities. For more detailed information, contact the High Hampton Inn & Country Club at 1525 Highway 107 South, Cashiers, North Carolina 28717. Visit the inn at http://www.highhamptoninn.com or contact reservations toll-free at (800) 334-2551.