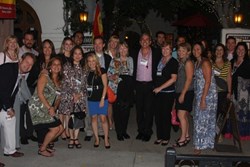 I wanted to give everyone the opportunity to meet face-to-face in a casual setting and let them experience who we are as a company and as individuals.
Montrose, CA (PRWEB) August 31, 2013
The Montrose Travel Corporate Services team proudly hosted their inaugural 'Drink, Dine, & Dash' event, a restaurant-hopping tour of Montrose, CA that encouraged clients to interact with their corporate travel partners outside of the typical business environment.
Over 50 clients and vendors were invited to visit the Montrose Travel Corporate headquarters, located on the beautiful Honolulu Ave., where they were given a brief tour of Montrose Travel facilities before being escorted to The Wine Cave, a local wine bar and Montrose favorite, for drinks and appetizers to begin the evening. Using OnArrival, the latest app from Cvent, a technology used prominently by Montrose Corporate Travel Services to manage and coordinate their client's meetings and incentives programs, guests were easily able to RSVP online and check-in onsite. Cvent and its technology provide a convenience that has contributed to the success of many corporate client meetings and events that Montrose Travel has managed.
Upon checking in, clients were then greeted by their Account Management team and Joe McClure, owner and President of Montrose Travel, who welcomed everyone with an opening speech and a few raffle prizes provided by the attending vendors, including Delta Airlines, National Car Rental, Hyatt Hotels and Best Chauffeured.
The idea and inspiration behind the "Drink, Dine, and Dash" event theme came from Corporate Sales Director Aash Shravah, CTE and his sales team as a way to further develop the relationships between clients, vendors, and Montrose Travel consultants. "Most of our clients only know us through phone calls and emails. I wanted to give everyone the opportunity to meet face-to-face in a casual setting and let them experience who we are as a company and as individuals. Montrose Travel is a family owned and operated business, and it's important to let our clients know they are a part of our family. We couldn't think of a better way to accomplish this then by showcasing our hometown and inviting others to experience that," stated Aash. The concept of family and building relationships outside of the typical phone call and business contract was further reiterated by the vendors attending the event, as echoed by Lennon McGowan, a Sales Executive with Enterprise Holding: "The event was a great out of the box way to build on existing relationships and create new ones. Great food, wine and the setting of Montrose made this that much easier!"
The evening progressed to a dinner-hopping tour which included family-style dining at Cucina Rustica and Casa Cordoba, where guests were treated to Italian and Spanish dishes and entertainment. The event was highlighted with a group photo and topped with dessert and more wine from The Wine Cave where the mingling continued into the late evening. Attendees were thrilled to participate, including Michael Ohsawa, VP, Operations at Nihon Kohden America, who told the Montrose Travel Corporate Team, "The Dine and Dash was a great event to help introduce Nihon Kohden America to the intimate atmosphere of Montrose's Honolulu Street district and the great support staff at Montrose Travel. You guys certainly know how to throw a great party! Hearing about the history of the organization along with the plans for future growth just helped solidify our feeling that we were partnering with a quality organization that will be able to provide our travelers with the tools that will keep them motivated employees."
The successes of "Drink, Dine, and Dash" exceeded expectations and the Montrose Travel Corporate Services Team is looking forward to making this an annual event in addition to the local activities already planned throughout the year.
ABOUT MONTROSE TRAVEL CORPORATE SERVICES
Celebrating 56 years in business, Montrose Travel, a family-owned travel management company, has grown from 14 employees in 1990 to more than 200 today and is now firmly established as a Top 50 Travel Management Company with sales exceeding $180 million. Montrose Travel Corporate Services strives to provide the highest quality services and most complete corporate travel solution for its customers. Montrose Travel "will be here tomorrow to back up our promises of today!" Visit Montrose Travel's Corporate Services at http://www.MontroseCorporateTravel.com or call 1-800-766-4687. CST#1018299-10.