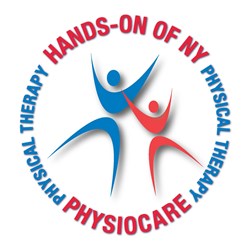 Something as small as a two-inch heel can increase the pressure on the front of the foot by 75 percent.
Astoria, New York (PRWEB) August 31, 2013
The average person walks "about five miles a day, and over the course of an average lifetime that's 115 thousand miles, that's four times the circumference of the Earth."
No wonder our feet hurt.
That is just one of the interesting facts that noted Podiatrist Dr. Ryan Minara spoke about to a group of Astoria residents at the new Hands-On Physical Therapy of NY facility in Queens.
"About 75 percent of all Americans develop foot problems at some point in their lifetime," explained Dr. Minara. While there is still much to learn about the human foot, doctors like Dr. Minara are doing their part to educate the masses.
In his presentation, Dr. Minara went into detail on how the average person can prevent foot pain. Some pointers from the Doc:
Put health above fashion: "Something as small as a two-inch heel can add pressure on the front of the foot by 75 percent, which is crazy considering all the pressure we put on the foot normally."
Buy shoes at the right time: "When you wake up in the morning that's the best your feet are going to look and feel. If you buy shoes then, they are not going to fit you right. You have to wait until the middle of the day when they are a little bit swollen, because everybody's feet swell (but if) you wait too late at night they are going to be too loose overall." So try and buy your shoes in the middle of the day, or right after work.
Gradual change is key: "Some people always run on a treadmill, and they say 'I want to run in the park, I want to run on the streets.' It's a very different surface and you can hurt yourself depending on the surface that you are running on. Same thing can happen in reverse." So if changing surfaces from your routine, be sure to gradually make the change.
Dr. Minara went on to discuss: Planter fasciitis, bone spurs, nail fungus, and various other ailments that effect people every day.
The evening was started by the host Dr. Dimitrios Kostopoulos, Co-Founder of Hands-On Physical Therapy of NY, who explained to the audience that there are different tests that can really help diagnose and treat their conditions. "Problems that can take place in the feet from conditions such as diabetes and others—you feel burning sensation, numbness, tingling in your feet—one of the tests that we do to identify these types of problems is Electromyography and Nerve Conduction Studies." Dr. Kostopoulos went on to explain that you can have a pinched nerve in your back which can manifest itself as foot pain, and testing of this sort can accurately diagnose the problem and give your physician a real solution for solving it. Contact Hands-On Physical Therapy of NY for more information, or visit this website: http://www.handsonemg.com.
To make the evening even more sweet, Hands-On Physical Therapy of NY gave all attendants a free consultation card which entitles them to a free sit down with a certified physical therapist to discuss any physical issues they might have.
To watch the entire interview, click here (will link this to our website when video is approved).
Hands-On News brings you all of the news related to better health.