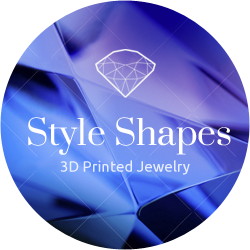 Discover, connect, get inspired!
(PRWEB) August 30, 2013
The fashion world of 3D printing just got a whole lot bigger! Showcasing the work of some of the best design talents across the world styleshapes.com is an exciting and truly unique website that combines the ever-growing craze of 3D printing with the latest styles and trends straight from the catwalk.
It is an online community and magazine dedicated exclusively to jewelry and other 3D printed fashion items, all of which are designed and created by and for members of the community, as well as for those simply looking for one-of-a-kind fashion pieces.
Styleshapes is neither a design agency nor a printing factory; it is just a place for all 3D design artists, regardless of whether they are experienced design veterans or complete newcomers to the industry, to get together, share their ideas, and get their unique designs out there to the world.
Fashion designers can quickly and easily promote their creations by uploading photographs, 3D models, and in depth descriptions, and there's really no limit as to what can be created. Bracelets, cufflinks, rings, and pendants made from a variety of materials including silver, gold, and steel are already dominating the listings.
There are no sign-up, listing, and selling fees - it's just a 100 percent free-to-use service that helps fashion designers market their own business, show off creativity and artistic flair. For e-commerce websites, there is an option to include a direct backlink, so users can purchase items quickly and easily.
Even users without design skills, but with an interest in fashion, accessories, and style, can greatly benefit from Styleshapes. Website navigation makes it easy to browse different designs, discover stunning fashion pieces not to be found in malls, and stay up-to-date with the latest fashion trends. Found something that's truly groundbreaking? Add it to favorites and help share it with the world.
Styleshapes is set to change the way 3D printing is used within the fashion industry, demonstrating what can be done and providing inspiration to millions of designers around the world. In combining both fashion trends and 3D printing, it is considered to be one of the first online communities and magazines dedicated exclusively to the marketing and circulation of 3D printed fashion accessories. Styleshapes.com has certainly found a gap in this niche market and grabbed the opportunity with both hands, creating what is destined to become a community that turns 3D printing from geek to chic.