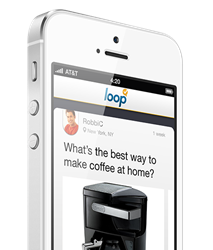 "Loop will help solve life's little dilemmas" -TechCrunch
Seattle, WA (PRWEB) August 30, 2013
Loop – Social Polling made its debut on iTunes on August first. After less than one month in market, it has crossed the 50k download threshold, and the momentum doesn't seem to be slowing. Erin Burchfield, Loop's Co-Founder and CEO noted, "Every new app hopes for good traction out of the gate, but these results blew past our expectations."
Loop's early success and appeal has been the focus of several positive reviews from independent app review sites and coverage in TechCrunch, TUAW and Entrepreneur. Loop also made Apple's "New and Noteworthy" list twice; once for the initial release, and again for an August 14th update.
Early adopters have quickly grasped on to the social aspect of the app, using it to ask specific questions such as "Where should we meet up for drinks tonight?" to more entertaining polls such as "Should A-Rod be kicked out of the majors?"
Burchfield notes that users value the simplicity and fun of social polling as an easy way to collect real-time feedback from friends. Instead of posting questions on Facebook, where responses are hard to compile, or using more complex survey tools, Loop users have been readily adopting an easier way to ask questions and connect with friends. As one user from Portland, OR noted, "This is a super fast, fun way to get each other's opinions on all sorts of things."
The social aspect has helped Loop achieve early success and continue to spread virally, with many users sharing Loops out to their networks, such as Facebook, Twitter or via email and SMS. As Burchfield points out, "The great thing about Loop is that a user's value increases as they include more friends and start polling each other, so the app itself becomes intrinsically viral."
Positive press has also helped bolster Loop's early success. AppAdvice's unsolicited reviewer noted, "I'm really enjoying Loop…this is a great app for collecting answers and making decisions, or just killing some time." While TechCrunch commented, "Loop will help solve life's little dilemmas, such as which movie to see or how much to tip the pizza-delivery guy."
Early adopters have echoed these remarks. A user from North Carolina noted, "We all like to share our opinions. This app invites you to do so, and because my responses are anonymous I'm comfortable being truthful." While a user from Kansas City commented, "Why would I ever make another decision alone when Loop makes it this easy to get other people's perspectives?"
The social polling space is still nascent, but attracting considerable attention from the VC community with several apps vying to become the market leader. This represents both a challenge and tremendous opportunity for Loop. But as the TUAW article pointed out, Loop offers the greatest flexibility, allowing users the ability to ask any type of question, vote anonymously, create private polls, and see results displayed as interactive infographics. Burchfield is confident this app design, early traction and user enthusiasm proves Loop has the "secret sauce" to win in this market.
###
Loop is a social polling app developed by NQuiry, LLC., a Seattle-based startup founded in September, 2012. The NQuiry team is led by Erin Burchfield, who spent 7 years at Microsoft working on product strategy and development. NQuiry's Technology Officer is Teagen Densmore, who has over 10 years' experience in casual and social game production and design. NQuiry's Financial Officer is Jamie Birdnow, who has worked for 15 years in finance and business development. NQuiry has raised $450,000 in seed funding to date, and Loop is the first app to be released by the company.
Media Contact:
Erin Burchfield, Co-Founder and CEO
NQuiry, LLC
206-465-4514
mailto:erin(at)nquiry(dot)co