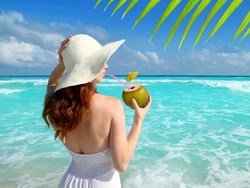 Playa del Carmen, Quintana Roo, Mexico (PRWEB) August 31, 2013
In baseball, a grand slam is when a player hits a home run with the bases loaded. In Canadian real estate terms, it is when an agent helps a buyer from each of Canada's 10 provinces find the home of their dreams. In August 2013, Leah Campbell did just that.
Leah has been living outside of Canada for almost five years now and it has completely changed her life. Her job as a real estate agent in Playa del Carmen over the past three years has allowed her to enjoy a quality of life she could simply not have enjoyed back in Vancouver, BC.
Originally from Kamloops, British Columbia, she left the small town after high school to attend University in Vancouver. She quickly realized what many who move to the big city for the first time find out, cities are expensive. Her tiny shoe-box of an apartment with a view of a brick wall was not exactly living a life of luxury. Today things are very different. For less than the cost of that shoe-box, she is able to enjoy incredible views of the golf course with its rolling green hills every single day of the year. "I enjoy my morning runs," says Leah.
All of this has come to pass because she has been able to turn her passion, helping her fellow Canadians who want to make the move to Paradise, into her profession (http://www.Canada2Playa.com). By coming down here and living the dream of owning real estate in Playa del Carmen, she is proof positive that it can be done.
There are really some cultural differences that Canadians need to be aware of before they make the move, or even make a purchase for a second home. Because Leah has a profound knowledge of both places and cultures, she is able to make the move easy and the transition seamless. Her dream life has now been passed to many other Canadians who now want a slice of the Caribbean life. "As Canadians, we are conditioned to believe that six months of bad weather is how life has to be lived, but it's just not," says Leah.
Today, she is lead broker at Canada2Playa, the country's premiere real estate brokerage firm in Playa del Carmen specializing in Canadian nationals who want to make the move abroad. The company specializes in not only understanding the laws in Paradise, but how those laws apply to Canadians here. Her reputable impression in the real estate Playa del Carmen industry has been just a small part of the positive results they she has experienced in her profession.
"The job of a broker does not end at closing," explains Allison Guzman, general manager at C2P. "The most important part of the transaction actually happens after the sale, making sure that the property is legally registered and recorded in the name of the new buyer, and that is where Leah really excels. Many brokers just want to get a deal done. Leah goes a lot further, making sure that her clients are protected from start to finish."
Leah's transparency and negotiating skills have introduced many Canadians from all over Canada to a warm, tropical and laid back lifestyle in Paradise. If you are interested in living the lifestyle as well in PDC, contact the most trusted Canadian in Playa del Carmen.
For more info on purchasing real estate in Playa del Carmen, visit http://www.Canada2Playa.com.