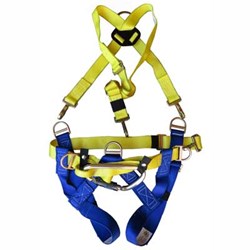 It is a Class II harness, a Class III harness and harness that can be used with a Firefighter Escape System, as a ladder belt, and more...
Neptune, NJ (PRWEB) August 30, 2013
In recent years, firefighters have increasingly been wearing and using a Class II Rescue Harness on their bunker pants. The most commonly used harness has been the Gemtor 541 series harness.
Designed by a (now retired) New York City firefighter, the 541 harness has been in use by New York City since the 1980's. Over the years the harness has evolved and has been improved. The most notable change in recent years has been the addition of a D-ring for attachment to a personal escape system and an aluminum 3-stage Pompier Hook.
As functional and useful as the 541 series harness is, it is still a Class II harness. A Class II harness as defined by NFPA 1983 states that the harness is to fit around the waist and thighs (or under the buttocks) of the user and may be utilized for a maximum of a two-person load.
In 2006, discussions and a concept drawing was created with an idea to make the Gemtor 541 harness adaptable from a Class II harness to a full body Class III Harness. The intent was for firefighters, while responding to an emergency or while operating at the scene of an emergency, to be able to quickly convert their harness.
The concept drawing was delivered to Gemtor and a prototype was developed. Over a period of more than six years, prototypes were constructed, tested, changed, modified, and improved; until a version was finalized. This final version has been tested and certified by Underwriters Laboratories (UL) to the NFPA 1983-2012 standards as both a Class II and a Class III harness.
And now, Gemtor and All Hands Fire Equipment are proud to announce the birth of the Gemtor 543NYC Class II / Class III Conversion Harness! Now available at: http://www.allhandsfire.com/Gemtor-543NYC-Class-II-Class-III-Conversion-Fire-Rescue-Harness .
The Gemtor 543NYC harness offers a combination of all of the great features found on the 541NYC and the 546NYC, including a fixed front waist strap, rear adjustments on the leg straps and easy-to-connect hardware. The A-frame includes a sliding D-ring to attach a personal escape system and a triple action aluminum carabiner. The harness is constructed with sturdy 1 ¾" wide nylon webbing that is stitched with high strength nylon thread.
One unique feature is the addition of a single piece of continuous webbing that connects a rated waist attachment point. The harness also has attachment points at the sternum, two (2) on the A-frame (also called the handle) and a rear dorsal attachment point. All attachment points have been tested and are rated to NFPA, OSHA and ANSI standards.
The Gemtor 543NYC is a one-of-a-kind multi-functional harness that allows a user to convert from a Class II harness to a Class III harness in seconds. It provides the user with excellent mobility and functionality in situations such as attaching to a ladder or apparatus bucket, a means of lowering one's self, a means of lowering others, use with an escape system, as a rescuer, to rescue a wearer, and more.
"All Hands Fire is so proud to have been working with Gemtor for the past 7 years on this project," said Donald Colarusso Firefighter for 26 years and president of All Hands Fire Equipment. "It is a Class II harness, a Class III harness and harness that can be used with a Firefighter Escape System, as a ladder belt, and more. Being two harnesses in one, it will also save fire department's money."
This product and training is available and can be purchased by visiting http://www.AllHandsFire.com/Gemtor-Harness.