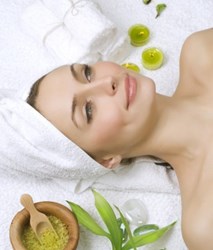 New York, NY (PRWEB) August 30, 2013
Now, Spa goers can lay down and relax while slimming their body with Joulebody. Setai, "A haven of tranquility in Wall Street," located right in the Financial District of NYC, has teamed up with Joulebody to create a true mind and body slimming experience.
Joulebody & Setai believe it is time for a new, luxurious way to cleanse. Founder Yvette Rose says, "We used ingredients that are great for slimming the body right before a spa treatment in our 3-Day Spa cleanse." The 3-day Spa Cleanse is a juice and food cleanse with healing vegan ingredients delivered to your door - cost is $189. This cleanse is meant to be used right before a 75 minute "Slimming & Toning Therapy" appointment with Setai Wall Street - Cost $255.
"Our packages of juice cleanses with food are created to help replenish and nourish the body. We especially made this the mission in our spa menu. We put together a diet to invigorate your mind and body," says Yvette Rose.
"When the Setai and Joulebody teamed up, the sole purpose was to create a detoxifying experience that would slim the body. I researched every ingredient in the Joulebody cleanse and put together a list of what was best for use on the external body for the same kind of detoxing and slimming results. These ingredients were ginger, mint, and seaweed." - Manny Ramirez, Treatment Director at Setai Spa Wall Street.
THE SPA TREATMENT
Designed to reveal a more youthful tone and firmness, this treatment begins with lymphatic brushing combined with a stimulating flaxseed oil and ginger tonic to release the toxins that produce cellulite. Next the body is enveloped in a rich algae, cucumber, and mint masque then wrapped in a thermal blanket to further intensify the detoxification process. Enjoy a relaxing scalp massage while you rest before submerging into a cleansing herbal soak infused with fresh mint and lemon. This experience concludes with an application of skin firming grapefruit lotion and a full body slimming massage consisting of a combination of deep tissue and lymphatic drainage to reduce cellulite and water retention, and increase metabolism. Leave feeling lighter, cleansed and toned.
THE MENU
Joulebody's 3-day Spa Cleanse is simple, easy to follow, delicious and designed to replenish—not deplete. This menu is a holistic approach to nutrition with enough protein and electrolytes to help you get through your day, allowing you to enjoy food, juices, and healthy meal replacement bars made of cacao or ginger.
DAY 1
9AM - Energize You! TrailMix Nuggets
12PM - Kale Salad with Flax Seed Dressing
5PM 16 oz. Grapefruit Mint Juice
7PM - Simple Hummus
ANYTIME – Ginger and Brownie Meal Replacement Detox Bar
DAY 2
9AM - Energize You! TrailMix Nuggets
12PM –Veggie Nori Roll
5PM 16 oz. Grapefruit Mint Juice
7PM –Sunflower Pate & Cabbage Wrap
ANYTIME – Ginger and Brownie Meal Replacement Detox Bar
DAY 3
9AM - Energize You! TrailMix Nuggets
12PM – Root Ginger Soup
5PM 16 oz. Grapefruit Mint Juice
7PM - Chickpea Croquette
ANYTIME – Ginger and Brownie Meal Replacement Detox Bar
Joulebody cleanses are available nationally at http://www.joulebody.com.
ABOUT JOULEBODY
Joulebody was founded by Yvette Rose, a New York City nutrition specialist, yogini and fashionable mother of two. Joulebody is also maker of the Joulebody Detoxifying Meal Brownie and Blondie bars. All Joulebody products are 100% natural and made from whole foods, spices, herbs, are gluten-, sugar-, wheat-, nut-, preservative-free and designed to kick start the body's natural cleansing processes. All packaging is 100% recyclable glass and paper.
ABOUT THE SETAI WALL STREET
Open to the public,The Spa at The Setai Wall Street invites guests to enter into a tranquil haven designed to indulge and nourish the world's most discriminating individuals. Located in the heart of downtown's diverse and dynamic Financial District, The Spa at The Setai Wall Street is an oasis of unsurpassed serenity, privacy and elegance featuring custom-designed treatments, rejuvenating therapies and revitalizing products. With ten signature treatment rooms, soothing tea lounge and water-therapy AquaGrotto™, The Spa at The Setai Wall Street caters to your every need in a serene and elegant setting.