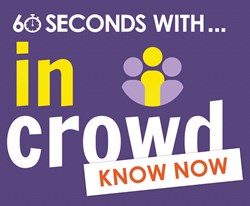 Data is data, information is interesting; insights help us make decisions.
Cambridge, MA (PRWEB) August 30, 2013
InCrowd, the only provider of real time business intelligence for the healthcare industry, announced the launch of 60 Seconds with InCrowd. A video series designed to highlight new ideas addressing the challenges facing today's pharmaceutical industry.
InCrowd has released the initial video series featuring industry thought leader Charlotte Sibley. The series focuses on the state of pharmaceutical market intelligence, the need to step away from traditional market research, the value of real time market information and managing change in the pharmaceutical industry. Future videos will highlight contributions from pharma marketers, input from the C-suit, results from industry polls and ideas from professionals exploring Google Glass in the healthcare space.
"Pharma is a highly regulated industry that's changing at a very rapid pace. There are cost constraints, healthcare system changes and transparency concerns that need to be addressed. The overall environment sets the stage for limited sharing despite common challenges," says Kathleen Poulos Co-Founder and CMO of InCrowd. "As a company focused on incorporating real time information into daily business decisions, we've been asking ourselves how we could help address these issues and that's how 60 Seconds with InCrowd got its start."
60 Seconds with InCrowd provides short, quickly digestible snippets of information addressing different industry issues. The speaker can be an industry pro like Charlotte Sibley or an industry newbie. The only requirement is a willingness to share an idea that can benefit the pharmaceutical industry.
About InCrowd
InCrowd's on-demand platform provides direct and immediate access to Crowds of screened and targeted healthcare professionals. Crowd queries are fast, easy and specialized for the healthcare industry. Micro surveys facilitate fast response rates, while specialized crowdsourcing provides answers within hours, even minutes. InCrowd is the only company offering healthcare focused real time market research. For more information, visit incrowdnow.com.