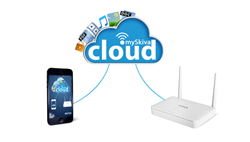 We are particularly excited to release our latest product that will vastly improve the way we use cloud networks.
Irving, Texas (PRWEB) August 30, 2013
In the weeks following the first published revelations about top-secret information leaked by NSA contractor Edward Snowden, the Guardian has published more than 300 stories about the current state of surveillance and the political fallout from these revelations. These revelations included court orders mandating Verizon Business Services to hand over all call records—numbers called, when calls were made, and call times—for all customers. Another incident involved large-scale collection of people's data without any individual warrants through cable tapping operations: the collection of both metadata and the content of communications traveling through the fiber-optic cables that make up the backbone of the internet.
With such a spike in surveillance privacy concerns, it's surprising that people remain naive to the fact that information stored in an online cloud network is no exception to privacy breaches. In fact, when you sign up with a server provider that offers cloud services you might as well hand over your documents, photos, videos, etc. in a neatly wrapped package because when you sign that "terms of use" form, you give them the rights to all of your information. You're no longer the sole owner of information contained in items you've stored in that cloud. If no cloud is truly secure, how can people maintain privacy? Not every cloud is unsafe—just the ones you sign up for online that involve a third-party server provider. And that's where new, innovative technology comes in that makes it possible for people to have their own private cloud network that doesn't require using a third-party server.
Consumers that take their privacy and information security seriously are investing in building a more secure future by supporting innovative companies like Skiva Technologies, Inc. Skiva Technologies is a Texas-based consumer electronics company that empowers individuals and corporations to maintain connectivity through their own secure cloud network with a new product that is being released on September 29, 2013. The company was founded in 2011 with the goal of bringing high-quality, user-friendly products to consumers all over the world. The founders of Skiva share a common belief that things can always be improved and that's just what they've done with their latest innovation—the mySkiva Private Cloud Router. Co-founder and CEO, Mandeep Kumar, is steering Skiva to become a world-class consumer electronics company beginning with the mySkiva router and cloud app.
"We are particularly excited to release our latest product that will vastly improve the way we use cloud networks. We've designed mySkiva with security, and simplicity in mind for our consumers. When it comes to clouds, there is really no better option than owning your own private network," explained Kumar. "It's no wonder that consumers have been investing in products like mySkiva. When people learn about everything that it has to offer, they are quick to cancel online cloud service subscriptions to make room for their new private network."
About the mySkiva Private Cloud Router
The mySkiva Private Cloud Router turns any USB hard drive into a private cloud server. Its accompanying cloud app provides the ability to access your cloud network from smartphones, tablets, and computers. Setup is simple, only taking about 30 seconds for router setup as opposed to other cloud arrangements that require you to choose between storage space plans, sign privacy agreements and terms of usage forms, and install software downloads. Access your data from anywhere in the world, at any time, and have peace of mind knowing that the only people with access to your data are the ones you've entrusted with a password. Storing your information on your cloud also means that all of your mobile devices will no longer have storage limitations. Expand your cloud storage by using a USB hub and additional hard drives, and don't get hung up on how much you're willing to pay every month for a certain amount of storage space. Since you own your cloud server, you don't have any monthly fees. Purchase the mySkiva Private Cloud Router once, and enjoy your private cloud for years to come.
In an age of privacy invasion, secure networks have never been more necessary and sought out. The mySkiva Private Cloud Router is a viable solution.
Learn more about the mySkiva Private Cloud Router here.
Contact:
Robyn Short, Public Relations Manager
Skiva Technologies, Inc.
robyn(at)skivatech(dot)com