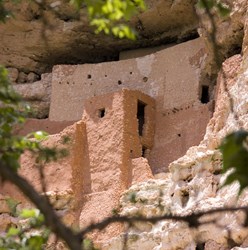 'This year, we're offering a wide range of tours, from a Colorado River archaeology boating trip to a guided American Indian art tour in New Mexico'--Clay Patton, Crow Canyon director of cultural explorations.
Cortez, CO (PRWEB) August 30, 2013
For lifelong learners who love to explore the American Southwest, the Crow Canyon Archaeological Center is offering a new lineup of domestic archaeology and cultural tours for 2014. Crow Canyon announced today that it will offer six itineraries, each geared to a different educational focus and activity level.
During Southwest Indian Art, travelers will enjoy opportunities to meet "the best of the best" award-winning jewelers, potters, and weavers from the Pueblos of Zuni, Hopi, Cochiti, Santa Clara, San Ildefonso, and from the Navajo Nation. The artists will demonstrate their craft, share family traditions, and describe their artistic development in a changing world.
May 4–10, 2014
Explorers will spend a week on the Colorado River running rapids, camping, and hiking during the Grand Canyon River Adventure. While investigating the 5,000-year-old history of the canyon, travelers will also get acquainted with the colorful history of early river runners such as Major John Wesley Powell.
May 18–27, 2014
Chaco's Southern Frontier explores the "Chaco phenomenon," with visits to great houses in Chaco Canyon and outlier sites in the Cibola region south of the canyon—where many sites were occupied long after downtown Chaco fell silent. Travelers visit sites on private, state, and tribal lands.
June 1–7, 2014
Through easy-to-moderate hikes in the country's most spectacular canyons, Crow Canyon's Pueblo Ruins of Chaco and Mesa Verde Country delves into the archaeology, cultural history, and landscapes of southwestern Colorado and northwestern New Mexico. The trip is designed for travelers who are new to exploring the Four Corners region.
September 14–19, 2014
Backcountry Archaeology: Comb Ridge offers hikers the chance to explore the 2,000-year history of the people who lived on "the Comb," one of the most prominent geologic features in
southeastern Utah. Hikers will visit tucked-away sites that most visitors to the Four Corners area never see.
September 28–October 4, 2014
During Ancient Peoples of Arizona, scholars lead travelers on in-depth tours of spectacular Sinagua sites in Arizona's Verde Valley and of the Hopi mesas—including cliff dwellings and rock art panels. The tour also includes visits to world-class museum collections and a behind-the-scenes tour of the curation facility and laboratory at the Museum of Northern Arizona.
October 5–11, 2014
For more information about Crow Canyon's full range of educational tours, or to sign up for a trip, call 1-800-422-8975, ext. 136; e-mail travel(at)crowcanyon(dot)org; or visit the Crow Canyon website.
About the Crow Canyon Archaeological Center
The not-for-profit Crow Canyon Archaeological Center, located near Cortez, Colo., conducts long-term, multidisciplinary research into the ancestral Pueblo Indians of the southwestern United States and provides experiential education programs for adults, teens, and children. For nearly 30 years, Crow Canyon has also offered domestic and international travel adventures for people who love to explore other cultures and delve into the mysteries of the human past.