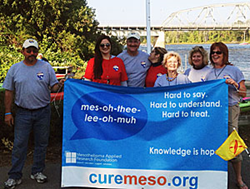 Albany, New York (PRWEB) August 30, 2013
On September 21, 2013, Kayaking 4 Meso will hold its third annual paddle from Schuylerville to Mechanicville, NY, to raise awareness and research funds for mesothelioma, a rare terminal cancer caused by asbestos exposure. Event organizer and Mechanicville, NY, resident, Mark Wells started the event to assist his daughter Linda who has been battling peritoneal mesothelioma, a cancer that attacks the lining of the abdomen. Linda is only 27 years old, and one of the youngest known people to battle this disease.
There is no known cure for mesothelioma and research funding has lagged far behind other cancer research. All proceeds from the event will be donated to the Mesothelioma Applied Research Foundation (MARF).
The event is being sponsored by the national mesothelioma law firm of Levy Konigsberg LLP ("LK"), a leader in asbestos litigation for over 25 years that has recently opened offices in Saratoga Springs and Albany, NY, to better serve victims of asbestos exposure in upstate New York.
LK was named The Law Firm of the Year in Product Liability in 2013 by U.S. News & World Report*. LK mesothelioma attorneys have won numerous landmark jury verdicts in New York State and across the Nation.
LK has been a proud sponsor of Kayaking 4 Meso since the inaugural paddle in 2010. LK mesothelioma lawyers, including Brendan Tully, and Chris Humphrey from the firm's Saratoga Springs and Albany, NY offices, will also take to their boats with the other paddlers to support their client Linda Wells and the cause of finding a cure for this deadly cancer.
Event participants can chose between a 16-mile course, which launches in Schuylerville at 8 a.m., and a 3-mile course which begins in Stillwater. Festivities will continue for participants following the paddle, and all others interested in supporting this great cause, at the Mechanicville Dock from 1 to 4 p.m. The entry fee is $25 and additional information is available at http://www.kayaking4meso.org.
For more information about Levy Konigsberg LLP, please visit the firm's website at http://www.levylaw.com or call 1.800.637.6529.