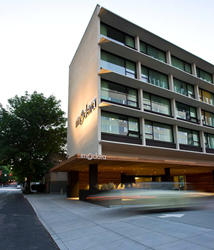 Portland, OR (PRWEB) August 30, 2013
Pebblebrook Hotel Trust acquired the property for $47.5 million from Posh Ventures LLC. Originally built in 1962, the hotel underwent a $13 million renovation that was completed in 2008.
Several PLA agents across the county worked collaboratively to represent the seller. Paramount was pleased to have facilitated the sale of the Hotel Modera on behalf of Posh. The seller repositioned the hotel perfectly as a premier destination in downtown Portland. Coupling the strong cash flow with the beautifully designed property, resulted in an exceptional price per key for the market.
Paramount Lodging Advisors is a hotel brokerage and advisory firm specializing in the sales of hospitality assets, value enhancement services, as well as debt and equity placement across the United States. For more information about Paramount Lodging Advisors, please visit http://www.paramountlodging.com/.