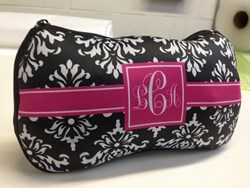 Pic the Gift is a one of the kind customization store that believes in working with their customers to get them the final results they desire.
Saint Louis, MO (PRWEB) August 30, 2013
Just in time for the fall, Pic the Gift is proud to release yet another quality, fully customizable product! Their newly released, fully personalizable cosmetic bags offer customers the ability to completely customize their bags to their liking. Yes, one can get a cosmetic bag almost anywhere, but no other store will offer the level of customization that is available at Pic the Gift. Not only do they offer virtually unlimited customization options when it comes to their products, but they also believe in taking a personal approach when working with customers to get their desired final result.
While designing the cosmetic bag, Pic the Gift will give customers the ability to pick whichever photo, image, or design they would like to put on either one, or both sides of the bag. The cosmetic bags, otherwise known as pencil bags or zipper bags, have been used to hold cosmetics, web books, small DVD players, or as handbags for students who are attending school.
Pic the Gift also offers personalized cuff bracelets as the perfect complement to the custom cosmetic handbags. Of course, with anything else at Pic the Gift, full customization is offered on the metal white or silver bracelets. The bracelets are great for school spirit, monograms, unique art fashion, and photo displays!
With well over 50 years of experience in the distribution and manufacturing of personalized gifts, Pic The Gift was established to meet the rising demand for personalized products and photo gifts. Strategically placing their manufacturing facility in the heart of the Midwest, specifically in St. Louis, Missouri, enables Pic The Gift to offer expedited delivery service to each of their clients. All products ship anywhere in the United States in less than four days.
All of PicTheGift's manufacturing is done in the United States, under their own roof, and with strict quality standards. While some of the raw material is imported, be assured that 100 percent of their manufacturing is done in the United States and Pic The Gift is doing everything in their power to keep jobs here in America.
Pic the Gift is proud to offer these customizable products both for personal use and as gifts. For more information on Pic The Gift's Personalized Photo Beach Towel and other personalized gifts, visit http://www.picthegift.com/ or contact 888-407-5008.