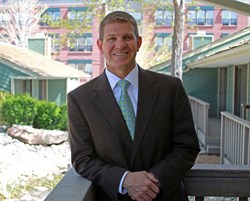 Greenwood Village, CO (PRWEB) August 29, 2013
Dr. Adam Weaver can treat patients suffering from gum disease with the Laser Assisted New Attachment Procedure (LANAP), which is currently the only laser gum surgery that has been cleared by the FDA for gum disease treatment. Greenwood Village patients who undergo this new procedure will enjoy improved oral health without any of the drawbacks associated with conventional periodontal surgery.
Compared to traditional periodontal surgery, LANAP is less invasive and offers results that are at least as predictable. Since the procedure uses a laser to exclusively target gum disease, there is no need for cutting or for the removal of any healthy gum tissue. The laser has no effect on teeth or gum tissue, and it actually has a beneficial effect on bone: it stimulates growth and regeneration. No other FDA-cleared gum disease treatment has been shown to have this effect. Patients of Dr. Weaver typically experience minimal pain or bleeding during and after LANAP. The laser used also cauterizes the infected site, which significantly lowers the risk of infection.
Dr. Weaver begins the procedure by measuring how deep the patient's gum pockets are. Dr. Weaver then uses the Periolase MVP-7 laser to remove the periodontal disease. After removing calculus from below the gum line with a scaling tool, Dr. Weaver uses the laser once again to stimulate the blood clot formation and bone regeneration.
Seeking treatment for gum disease early is crucial, since gum disease can lead to the loss of teeth and has also been linked to health problems elsewhere in the body. Greenwood Village patients who want to learn more about how the LANAP gum disease treatment works and what benefits it offers are welcome to visit Dr. Weaver's website or call his office today.
About the Doctor
Dr. Adam Weaver is a periodontist offering personalized dental care for patients in Greenwood Village, CO since 2000. Dr. Weaver attended Brigham Young University, and during that time took a two year leave to serve as a missionary for the Church of Jesus Christ of Latter-day Saints. Upon his return he completed his bachelor's degree in Medical Science. He attended dental school at the University of Colorado Health Sciences Center where he received his Doctor of Dental Surgery degree. He joined the periodontal residency program at the V.A. Medical Center in Milwaukee, WI, and earned his Masters of Science degree at Marquette University. Dr. Weaver is fluent in Spanish, Portuguese and Guarani. He is part of one percent of dental professionals providing the only FDA cleared laser procedure for gum disease and periodontal treatment. To learn more about Dr. Weaver and his dental services visit his website at http://www.mtperio.com and call (303) 800-0120.