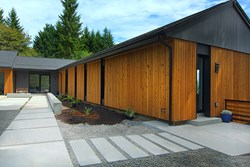 "It's worth noting that the Platinum Certification requires scoring 100 points on the evaluation," said Shanahan. "At 149 points, this home is an overachiever to say the least!"
Portland, OR (PRWEB) August 31, 2013
Portland and Seattle green builder Hammer & Hand announced today the awarding of Platinum Certification to the Pumpkin Ridge Passive House from Earth Advantage Institute. The Pumpkin Ridge Passive House, a new home building project designed by Scott|Edwards Architecture and built by Hammer & Hand, will be Earth Advantage Platinum, Earth Advantage Net Zero Ready, Department of Energy Challenge Home (ENERGY STAR, Indoor AirPLUS), and Passive House (PHIUS+) certified.
"Earth Advantage is a non profit based in downtown Portland with a mission to accelerate the creation of better building," said Earth Advantage green building consultant Ryan Shanahan. "We offer new home certification to Passive House, LEED for Homes, ENERGY STAR, Indoor AirPLUS, WaterSense as well as our own green building standard and Net Zero green building standard."
To receive Platinum Certification from Earth Advantage Institute, the Pumpkin Ridge Passive House needed to pass a rigorous checklist of green building features in the categories of energy efficiency, indoor air quality, land conservation, material responsibility, and water conservation. When the final test-out was done, the home building project exceeded the requirements.
"It's worth noting that the Platinum Certification requires scoring 100 points on the evaluation," said Shanahan. "At 149 points, this home is an overachiever to say the least!"
While the idea of increased efficiency guided the homeowners' approach to their home building project, it was the functional excellence of Passive House that really drew them to the green building approach.
"In my work, functional excellence is key," said homeowner and client Brain Farris. "I wanted our new house to work in the same way, to maximize utility by functioning in harmony with the environment, instead of against it."
The Pumpkin Ridge Passive House is an example of how new home building projects can successful meld good design with high performance building, achieving super-efficiency and superior comfort to the homeowners.
About Hammer & Hand:
Hammer & Hand is a Portland and Seattle construction company dedicated to inciting evolution in building through service, science and craft building spaces that sustain and delight by empowering employees, harnessing 21st century building science, and advancing the tradition of craftsmanship. The company's scope ranges from classic kitchen remodeling to high design custom home building to modernist Passive House construction.
Hammer & Hand
1020 SE Harrison St.
Portland, OR 97214
(503) 232-2447