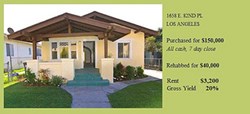 "Global direct commercial investment rose 24% against the same period in 2011
Beverly Hills, California (PRWEB) August 29, 2013
SRE Design & Development, a leading real estate investment firm in Southern California, has today announced that investors hoping to hedge against volatility and instability should follow the trends – to real estate.
Not too many years ago, real estate investing might have been the last thing on the minds of investors hoping to grow their wealth and build stability. That's certainly not the case today. Jay Belson of SRE Design & Development points out, "The trend of investing in real estate is growing by leaps and bounds. The Asian markets are a clear example, but they're certainly not the only one. Hedge funds are heavily investing in all types of real estate here in Southern California and elsewhere."
A lot of the interest in commercial real estate seems to stem from those very economy-stimulating activities that world governments hoped would spur financial stability. In the face of the Fed's quantitative easing program and ongoing printing of money, investors throughout Southern California, and Los Angeles in particular, are looking for somewhere safe to protect their wealth.
For those who prefer the purity of hard, cold numbers, Belson points out that, "Global direct commercial investment rose 24% against the same period in 2011 (for 2012). 2013 is expected to mark the $500 billion investment mark."
Jay went on to say, "There's definitely a global outlook here, and a lot of investors are snatching up properties in Los Angeles as well as properties in Canada, Mexico and all over Asia. It's a form of diversification that lets them beat the downsides of investing solely in a local or regional market. It's smart thinking."
With the costs of commercial properties still relatively low in Los Angeles and throughout Southern California, coupled with the low interest rates and continued federal meddling with the economy, commercial real estate investing is only going to become more popular as a way to eliminate risk.
To find out more about SRE Design & Development, visit http://www.SREinvesting.com.
About SRE Design & Development: Headquartered in Beverly Hills, SRE Design & Development specializes in Los Angeles real estate investing. Clients are able to participate as owners, lenders or partners in investments.