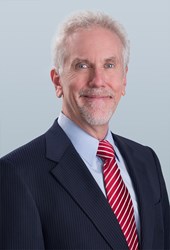 Las Vegas, Nevada (PRWEB) August 31, 2013
James Patrick Shea, a founding partner of Shea & Carlyon, has joined Armstrong Teasdale along with three of his colleagues from the Las Vegas-based boutique commercial insolvency and litigation law firm. A prominent figure in the national business bankruptcy field, Shea is a partner in Armstrong Teasdale's Financial and Real Estate Services (FRE) practice group.
Also becoming members of the firm's FRE practice group are of counsels Tracy M. O'Steen and Scott D. Fleming, and associate Brandon P. Johansson. They will focus on business bankruptcies, debtor and creditor rights and commercial litigation.
"The addition of Jim, Tracy, Scott and Brandon strengthens the firm's entire banking litigation practice, especially in the debtor and creditor rights area," said Richard Engel, leader of the FRE practice group. "Their arrival also expands the breadth of services we offer in Nevada, where we have been growing our Las Vegas and Reno offices since 2005."
Shea is the founding chairman of the American Bar Association Subcommittee on Gaming Insolvencies and Reorganizations. He is also the founding chairman and current vice chairman of the State Bar of Nevada's Bankruptcy Law Section. The current chair of the American Bankruptcy Institute's civility task force, he also serves as the ABI vice president of communications and information technology. In addition, Shea is the Ninth Circuit Lawyer Representative for the District of Nevada.
He received his J.D. from the University of Arizona James E. Rogers College of Law and B.A. from the University of Arizona.
O'Steen received her J.D., cum laude, from Mississippi College School of Law and B.A. from Florida State University. Fleming received his J.D. from Loyola Law School Los Angeles and B.A. with Distinction, from the University of Nevada, Las Vegas. Johansson received his J.D., summa cum laude, from William S. Boyd School of Law - University of Nevada, Las Vegas and B.S., cum laude, from Brigham Young University.
About Armstrong Teasdale: Armstrong Teasdale LLP, with more than 250 lawyers in offices across the United States and China, has a demonstrable track record of delivering sophisticated legal advice and exceptional service to a dynamic client base. Whether an issue is local or global, practice area specific or industry related, Armstrong Teasdale provides each client with an invaluable combination of legal resources and practical advice in nearly every area of law. The firm is a member of Lex Mundi, a global association of 160 independent law firms with locations in more than 100 countries, and the United States Law Firm Group, a network of 18 law firms headquartered in major U.S. cities. Armstrong Teasdale is ranked in the 2012 lists of the nation's largest law firms: the Am Law 200, published by The American Lawyer, and the NLJ 250, published by The National Law Journal. For more information, please visit http://www.armstrongteasdale.com.
###