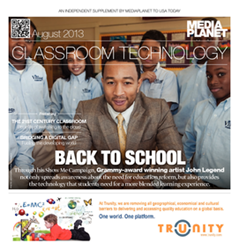 New York, NY (PRWEB) August 30, 2013
Classroom Technology campaign: Reaching over 1.3 million readers, the glossy, full-color special section appears within the centerfold of USA Today in the select markets of New York, Washington DC, Chicago, and LA. The publication will also be distributed through numerous social media platforms, further extending the reach to key opinion leaders, influencers, consumers and celebrities.
The publication has brought together the leading organizations and thought leaders in the classroom technology industry and has created a unified collective voice, educating and providing readers with 21st century solutions that can be integrated into today's classroom. The campaign features leading organizations such as Partnership for 21st Century Skills, John Legend (celebrity advocate), International Society for Technology in Education, and the National PTA- with a variety of inspiring industry leaders such as Adobe, Skype, Houghton Mifflin Harcourt, Ingram Content Group, SMART Technologies, Texas Instruments, Remind 101, Trunity, Luidia, finalsite, and more. Mediaplanet is thrilled to bring attention to how technology is transforming education on a global scale.
About Mediaplanet
Mediaplanet is the leading independent publisher of content-marketing awareness campaigns covering a variety of topics and industries. We turn consumer interest into action by providing readers with motivational editorial, pairing it with relevant advertisers, and distributing it within top newspapers and online platforms around the world.