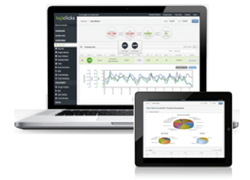 We engineered the platform with an enterprise-caliber mindset that brings immense value...
Cupertino, CA (PRWEB) August 30, 2013
TapClicks.com, the digital presence company, today unveiled its powerful new TapClicks Cloud Marketing Analytics 3.0 Platform, the new industry standard for digital-marketing analytics and campaign performance dashboards.
The TapClicks 3.0 platform combines significant new functionality to the powerful TapClicks 2.0 platform for digital marketers, adding point-and-click campaign onboarding, report generation and scheduling, and new connectors to important digital marketing services. These new features, plus traditional TapClicks unified scoring, analytics and data presentation put the answers to critical questions at your fingertips:

How effective is my search engine marketing spend?
Are people saying good things or bad things online about my business?
Do people interact with or ignore the email newsletters we send?
Is my website highly ranked on the most important search engines?
What is my ROI on Bing Ads versus Google AdWords?
Are people interacting with my Facebook page?
… plus many other important insights into the world of digital marketing…
The TapClicks Cloud Marketing Analytics Platform quickly connects and caches performance metrics from Google Analytics, Google and Bing SEM campaigns, Facebook, Foursquare, Twitter, Vendasta reputation monitoring, Marchex, SEOMoz, Constant Contact and MailChimp, among others. Digital agents use the TapClicks 3.0 analytics platform to report performance of their clients' outbound marketing efforts at the website, campaign, creative, and keyword levels.
"Our third-generation TapClicks cloud-based digital analytics platform is a major advance for agencies and their client businesses," said Babak Hedayati, CEO of TapClicks. "We engineered the platform with an enterprise-caliber mindset that brings immense value to our customers, whether they are agencies, enterprises, or smaller businesses that are just getting started in the digital world."
TapClicks 3.0 includes numerous new advanced features, including:

Incorporation of the OAuth 2.0 authorization framework to improve the front-end customer onboarding process
Ability to view all clients/campaigns inside a third-party account and to assign them as accounts or campaigns inside the TapClicks environment
"Generate Client Report" function, enabling agents to select a time period and format and generate a comprehensive report for a chosen client
"Manage Scheduled Reports" center, enabling agents to send HTML or PDF reports by email to clients on a Daily, Weekly, or Monthly basis
"Manage Preferences" function, enabling agents to restrict access to selected information inside a client dashboard
New connector support for Constant Contact, Foursquare, MailChimp and Twitter
New, Improved help desk support and feedback functionality
And, of course, much more!
About TapClicks:
TapClicks provides digital-marketing solutions, performance analytics, turnkey digital packages for resale, and fulfillment for its clients as needed. Founded in 2009, TapClicks operates out of offices in Silicon Valley, Canada, India and Mexico.