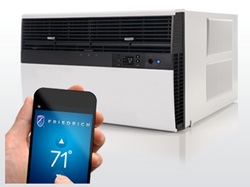 Friedrich is gearing up for cooler months by educating consumers about A/C systems featuring heat pumps.
San Antonio, Texas (PRWEB) August 31, 2013
It's still hot across much of the country, but the seasons will soon change, making the end of summer a perfect time to upgrade to a cost-effective room air conditioner with heat settings.
Friedrich, a Texas-based manufacturer of quality air conditioning systems, is gearing up for cooler months by educating consumers about easy-to-install A/C systems featuring heat pumps and electric heat.
The stylish and tech-savvy Friedrich Kühl is one of the most technically advanced room/window A/Cs with heat settings that can be programmed from a smart phone. It is also energy-efficient, features WiFi capability and comes with an optional air purity system for improved air quality.
"I have always had a Friedrich in my apartment during the 24 years I have lived here," said Sherry Cener, of Mount Vernon, New York. "When it came time to upgrade this summer, I went back to Friedrich because it makes a great product. Then I fell in love with the sleek design of the Kühl."
With cooling capacities of 5,400 to 36,000 Btu/hr, the Kühl comes in a variety of models capable of cooling rooms ranging in size from 150 to 2,700 square feet. Optional heating capacities range from 4,000 to 23,500 Btu/hr.
Visit the Friedrich Sizing Guide and Specifications by Model to learn more about selecting the appropriate cooling and/or heating capacity. The site features a distributor locator tool.
The Kühl can be used as a stand-alone system for apartments or as an enhancement to homes with central A/C systems.
"The coop board of my building is really fond of Friedrich because it makes a 10,000-Btu unit with 7.5 amps," added Cener. "That's perfect for many of these older buildings because other 10,000-Btu systems require more than 7.5 amps, which will blow a fuse in our building."
About Friedrich
Founded in 1883, the San Antonio-based company has manufactured room air conditioning units since 1952. It remains the sole room air conditioning manufacturer in North America. Friedrich's newest line of products includes the Breeze ductless split system, the Wi-Fi-enabled commercial-grade room air conditioning system, and the sleek consumer-friendly Chill. Friedrich air conditioners are hardworking and long lasting. Constructed of the highest quality components, Friedrich products are built to exacting standards and are among the quietest and most energy-efficient available. If you demand the best, it has to be a Friedrich.