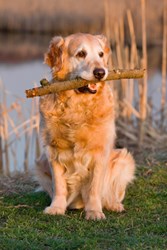 Your dog's long coat actually helps regulate his body temperature.
Portland, OR (PRWEB) August 30, 2013
Between sunny days and bonfire nights, it's easy to believe that the summer could do no harm. But summertime can present an array of health risks to our beloved pets, and as pet owners we must remain particularly vigilant. In a recent article entitled '5 Tips For a Healthy Pet in the Summer' Ralph Stice outlines five of the most important things to watch for during the summer.
Most notable in the article was the counterintuitive suggestion that giving your dog a summer haircut could in fact be harmful to his or her health. As Stice wrote on the matter, "Your dog's long coat actually helps him regulate his body temperature and is a protective barrier between the sun and his sensitive skin. Dogs don't sweat and they also don't have the same pigments in their skin that we do to protect from harmful UV rays. This means that a shaved coat could expose them to sunburn, which could even lead to skin cancer."
So whether your jogging with your furry pals or relaxing in the sun, keep in mind these simple tips as they could save your pets life.