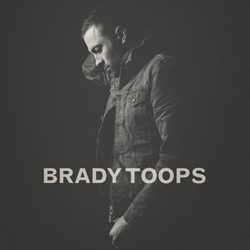 Drawing inspiration from artists like Jon Foreman and Johnny Cash, Toops combines elements of traditional folk, rock'n'roll and gospel in this latest project.
Nashville, TN (PRWEB) August 30, 2013
On Tuesday, August 27th, independent singer/songwriter Brady Toops debuted his new self-titled, full length record in digital stores worldwide and broke into the top 10 for iTunes album sales in the Christian/Gospel category, reaching the #8 spot. The new success highlights the grassroots following Toops has cultivated over the last couple of years on the road as an independent artist with no label or management backing.
Chad Michael Snavely, producer at RELEVANT Magazine, first heard the new record from Toops a couple months ago when a mutual friend, Phillp LaRue (Us & Our Daughters), passed it along. After hearing the tunes, Chad Michael described the sound as "the perfect blend between Johnny Cash and John Mark McMillan". RELEVANT has gotten behind the record and featured it on their re-launched music service called The Drop where they stream albums from a number of up and coming signed and unsigned artists.
In his quest to redefine the proposed gap between the sacred and the secular, Brady Toops makes music that truly appeals to the soul. Drawing inspiration from artists like Jon Foreman and the previously mentioned, Johnny Cash, he combines elements of traditional folk, rock'n'roll and gospel in this latest project. Brady teamed up with new producer David Leonard (of All Sons & Daughters) to work on this 11-song collection in Franklin, Tenn. over the last year and a half. Though many have called this album a worship record, it displays a unique variety of hymns, spirituals, and traditional singer/songwriter tunes all wrapped in a warm vintage sound. It includes co-writes with David Leonard (Integrity), as well as Anthony Skinner and Mia Fieldes (Hillsong).
"How a person sees the world bleeds through everything they do. The songs on this record are the most honest and sincere words I know how to say, whether that's being said to God, to a friend, or even to a certain group of people. The record is filled with prayers and stories around the themes of hope and mercy, as well as the struggle of pain and redemption. Many of these songs were written because I needed to find new words to express what I need to say. So my hope with this record is that it would add greater beauty to people's lives and maybe help them to see their story and find their voice in the midst of these tunes," shares Brady.
Having grown up in New London, a small Minnesota town, Toops spent the majority of his early years running around on diamonds and athletic fields. After making a brief stint in Minor League Baseball with the St. Louis Cardinals, he left the world of athletics in 2007 to begin pursuing his first love, music. Now based out of Nashville, Tenn., Brady continues his musical pursuits while collaborating with an incredible community of talented artists and friends. To listen and/or purchase the new record from Brady Toops on iTunes click HERE. For more music, videos, and updates also visit http://www.bradytoops.com.