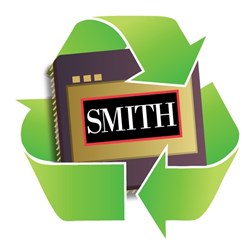 We hope to use our participation to help keep our momentum going to expand our sustainability programs and practices for continuous green improvement.
Houston, TX (PRWEB) August 30, 2013
Smith & Associates, the largest independent distributor of electronic components, today announces its participation in the 2013 Houston Green Office Challenge. Building upon its 2011 success, when its Houston headquarters earned the first-ever award for Overall Winner - Greatest Implementation of Green Building Innovations in the inaugural Houston Green Office Challenge, Smith will use this year's challenge to push itself to even higher levels of sustainable achievement in its ongoing green goals.
The Houston Green Office Challenge aims to equip and motivate property owners and managers throughout Houston to reduce their energy consumption, waste production, and water usage, and also encourage office tenants to adopt sustainable practices like recycling, carpooling, and green product purchasing. With free training sessions, workshops, and other resources to educate Houston companies in waste reduction and wiser resource use, this program provides a valuable growth opportunity for companies to adopt – or increase – their sustainable practices, in line with Houston's growing green movement.
Smith has set core corporate goals for sustainability that resonate throughout the company, from its headquarters building itself to a corporate culture focused on – and enthusiastic about – green awareness. In 2011, Smith completed a dramatic green renovation of its headquarters building that included the installation of a solar photovoltaic system to provide renewable energy to its headquarters building; a solar thermal system for heating water; and a solar panel-covered parking structure with electric car charging. Other elements of the overhaul included replacing the building's previous roof with an energy-efficient TPO "cool roof" and replacing its compressed gas HVAC system with air-cooled chiller towers, exterior water pumps, and chill water air handling units.
In addition, extensive awareness-building initiatives have ingrained Smith's green goals in the company's day-to-day practices and Smith's domestic and international offices have since been incorporated into the sustainability program as well.
"The Houston Green Office Challenge encourages companies all throughout the city to make sustainable changes, one step at a time," said Art Figueroa, Smith's Vice President of Global Operations. "We were honored to have our efforts recognized by the city in 2011, and we feel privileged to continue our involvement in this program. We hope to use our participation to help keep our momentum going to expand our sustainability programs and practices for continuous green improvement. The city's challenge offers the tools and direction to achieve that end, and we're excited to see what we – and Houston as a whole – can achieve."
The results of the Houston Green Office Challenge will be announced early in 2014.
For more information on Smith & Associates' ongoing sustainability initiative and projects, please visit:
http://www.smithweb.com/en/company/smith-and-the-environment.
About Smith & Associates
Founded in Houston in 1984, Smith & Associates is a leader in the independent distribution of semiconductors and electronic components to electronics and high-tech manufacturers. Smith offers shortage sourcing for commodity and obsolete parts, innovative purchasing and inventory management solutions, redistribution of excess inventory, and component stocking for warranty and repair programs.
A privately-held company, Smith & Associates employs more than 350 people worldwide, with annual revenue in excess of US $450 million. Smith's regional hubs in Houston, Hong Kong, and Amsterdam are ISO certified. In addition, sales and purchasing offices are located in Austin, Silicon Valley, Guadalajara, New York, Shanghai, Shenzhen, Seoul, Singapore, Taipei, and Denver. For more information, see http://www.smithweb.com/ or, to reach a Smith representative 24 hours a day, please call: 1.800.HOUSTON or +1 713.430.3000.
# # #
For more information, contact:
Mark Bollinger
Smith & Associates, V.P. of Marketing
+1 713.430.3000
mbollinger(at)nfsmith(dot)com