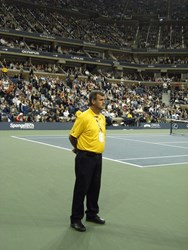 "The USTA has developed and implemented one of the best security plans of all major sports and events in the US."
Northridge, CA (PRWEB) August 30, 2013
Contemporary Services Corporation (CSC), the world leader in crowd management and event security, announces its five-year contract with the United States Tennis Association (USTA) to provide security and event staffing for the US Open Tennis Championships in Flushing, New York. The US Open is the most highly attended annual sporting event in the world, with over 700,000 in attendance each year. The 2013 US Open began on August 26 and will conclude on September 9 at the USTA Billie Jean King National Tennis Center, the world's largest public tennis facility.
CSC has been the exclusive security and event staff provider for the US Open Tennis Championships since 2009 and works closely with Mike Rodriguez, US Open Director of Security, who also serves as co-chair of the Department of Homeland Security Sports League Sub-Sector Council. Scott Dennison, CSC's Vice President of Special Events II, stated, "The USTA has developed and implemented one of the best security plans of all major sports and events in the US. Special Events II, in conjunction with CSC's New York City branch, has recruited and hired over 1,400 staff to support this prestigious event, and we look forward to continuing this partnership with USTA for five more years. We would also like to dedicate our work at this year's US Open to Mr. Rick Welsch, a long-time CSC employee who passed away earlier this year."
About Contemporary Services Corporation
Contemporary Services Corporation (CSC) is the world leader in crowd management and event security for the entertainment and sporting event industries. Throughout its 46 years of experience, CSC has garnered a loyal and esteemed client base, including more than 100 stadiums and arenas, over 100 universities and colleges, more than 20 convention centers, and numerous clients within the professional ranks of MLB, MLS, NBA, NFL, NHL, and NASCAR. CSC has also provided services for the world's most prestigious special events, including Collegiate Bowl Games, NCAA Final Four Tournaments, PGA Tournaments, 30 Super Bowls, 8 Olympic Games, 4 Presidential Inaugurations, 2 Papal visits, and 2 FIFA World Cups. CSC operates more than 50 branch locations throughout the United States and Canada. http://www.csc-usa.com