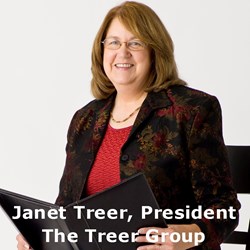 An effective employee recognition program can help an organization achieve lower turnover, more engaged employees and improved results.
Lancaster, PA (PRWEB) August 30, 2013
The Treer Group is now guiding its business clients in a new direction for employee recognition, citing research which shows that traditional programs do not work.
"The evidence is clear that traditional employee motivation programs that are based on longevity simply don't work," says Janet Treer, President of The Treer Group, a strategic planning, coaching, leadership development and management consulting firm based in Lancaster, PA. "We recommend a performance-based, individualized program, and the research backs it up."
Research from Bersin & Associates shows that 87% of the investment made in employee motivation goes to programs that focus on length-of-service recognition. Unfortunately, longevity-based programs have little or no impact on organizational performance.
"This is especially significant when you realize that companies spend an average of 1% of payroll on employee recognition," says Treer. "That totals $46 billion per year, which is a massive amount to waste on ineffective programs."
Treer offers several best practices for creating an effective employee recognition program:

Recognize people in ways that are meaningful to them, not cookie-cutter pats on the back.
Recognize people for specific results and behaviors, rather than just acknowledging a good job.
Peer-to-peer recognition is more effective than top down praise.
Using recognition stories makes it personal and effective.
Make recognition easy and frequent so people can give rewards to others.
Tie recognition to company goals or values.
"For businesses establishing a new recognition program or updating an existing one, these points are the keys to success," says Treer. "Done right, it can help an organization achieve lower turnover, more engaged employees and improved results."
Read Janet Treer's entire article: "Employee Recognition."
Subscribe to Management Updates, The Treer Group's monthly bulletin.
About The Treer Group: The Treer Group provides coaching, assessments, tools and guidance to help organizations and individuals identify areas in need of improvement, discover practical solutions and implement long-lasting change that comes from within. Janet Treer, President, founded The Treer Group in 2007.