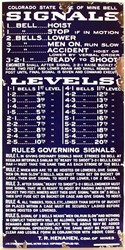 Arvada, CO (PRWEB) August 30, 2013
This year marks the 150th anniversary for Stonehouse Signs. The Colorado-based company began manufacturing customizable products for safety and accident prevention in 1863 and was a founding member of the National Safety Council, pioneering many of the standards that are still in use today. Stonehouse products are used by governments and a wide range of industries, including telecommunications, oil and gas, medical, traffic control and skiing.
In 1863, William Stonehouse opened a sign shop in Chicago and taught his son, James Wesley (J.W.) Stonehouse, the art of gold leaf lettering on store front windows for banks, offices, and other commercial businesses. After following the mining boom out west, J.W. moved to the Victor-Cripple Creek region of Colorado in 1910. He saw a need for increased safety and communication to protect the mining workers and eventually went to the Colorado Bureau of Mines and lobbied for standardized bell signals for all mines in Colorado.
"A lot has changed since my great-great-grandfather founded our family business back when Abraham Lincoln was our country's president," says Jeff Stone, current co-owner of Stonehouse Signs. "Workplace safety has greatly improved and I am proud Stonehouse Signs was a part of the industrial safety movement. We will continue to make high-quality products that help keep people safe."
###
Since its founding in 1863, Stonehouse Signs has produced high-quality visual communications solutions for industry and government. The company specializes in customizable products for safety and accident prevention and manufactures a full line of safety signs, facility signs, lockout tags and decals designed for extended outdoor life, harsh environments and demanding applications. For more information, call 1-800-533-9914 or visit http://www.stonehousesigns.com.