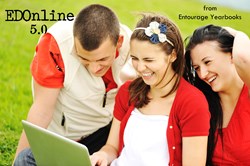 The software was easy to figure out, easy to use, helped with ideas and kept us on task.
(PRWEB) August 30, 2013
On August 31st, 2013 Entourage Yearbooks will unveil new updates to their online yearbook software, EDOnline, with version 5.0. This will mark the third year that the EDOnline software has been available to Entourage Yearbooks customers.
The EDOnline yearbook software has already been recognized as an award winning software within the education industry. In 2012 it received the Outstanding Web Site award in the 2012 WebAwards, an annual internet competition sponsored by the Web Marketing Association. Entourage Yearbooks was one of only ten websites to receive that honor in the education industry.
The EDOnline software was recognized for it's innovative and collaborative components that set it apart from the other yearbook software in the industry today. The EDOnline software allows schools to share their ideas and designs with other schools. It also features an online journalistic yearbook curriculum that each student can login and complete. It makes the teaching/learning process more accessible and user friendly resulting in less time learning the software, and more time doing hands on design.
Entourage Yearbooks customers report feeling the difference of the additional collaborative features. "It was easy to figure out, easy to use, helped with ideas and kept us on task," said Kathy Lamotte of Southwest Hills School in Beaverton, OR.
Thousands of schools across the nation have already used the EDOnline software to create and deliver their yearbooks. This August the Entourage Yearbooks website development team will introduce new features and functionality to the website aimed at further improving the user experience.
"We held a series of six different focus groups plus several surveys out to our customers to gather the most complete set of feedback possible about our customers views on the online software program," said Web Team Manager, Nicole Rossi. "It was very important to us to learn how our customer interact with the software and what they saw as the most important areas for us to make updates and add new features."
New features within the August 31st launch are set to include new user friendly menus which will make page building process even faster and more intuitive, as well as a new photo organization structure that will allow for more easy sorting and categorization of photos within the system.
"We are focusing on making the user experience as streamlined and intuitive as possible," said Rossi. "Introducing new menus will decrease the amount of 'clicks' that a customer must make on the page to complete a desired action. This will make the entire book building process faster and require less training."
The Website Development team has also re-thought the current process for flowing the "people pages" - the popular section of the yearbook where each student is pictured and listed individually in their grade or class.
"We've created a system where schools can easily upload their pictures and student data and our website will output the yearbook pages in any format that the school chooses," explains Rossi. "Customers can expect even more organization and tracking tools as well as very quick page generation times."
One of the overall updates being addressed on the website is speed. Entourage Yearbooks is working to make sure that the website continues to grow and support the amount of customers that will be using it year after year.
"We recognize the expectation for web based technologies to perform faster and faster so we're making sure that our website is fortified to effectively receive and handle the load that our ever growing customer base will require this year," said Rossi.
To learn more about Entourage Yearbooks and the EDOnline software visit their website at http://www.entourageyearbooks.com.