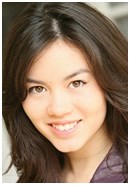 Taking a Berklee class is a thrill; for the first time I'm really excited about starting school.
Westlake Village, CA (PRWEB) August 31, 2013
Oaks Christian Online High School (OCO) Junior Georgia Leva is looking forward to starting a new school year online and taking her first dual-enrollment course through Berklee College of Music. OCO offers a partnership with Berklee Music to help its online college-preparatory students meet their year-long visual and performing arts credits. Students have taken courses such as Rock History, Voice Technique and other online courses that count towards both high school and college credit from the prestigious music school. Georgia will be taking Lyric Writing from Berklee because of her interest in all aspects of music and the performing arts.
Georgia has been a model and in print advertising for such companies as Mattel, Disney and Talbots since she was very young. Her mother is also a model/actress and her dad is a Second Unit Director and Stunt Coordinator. She grew up in the entertainment industry and is now preparing for work in film and TV. Besides her interest in acting, Georgia loves all forms of music and dance. She has sung and performed for John Jacobson's Music Express music videos and CD's, an educational music video company. She has also sung on commercials and even for the 2008 Olympic theme song recording. Georgia has also written, directed and produced two videos of her own: Baby Come Back and You Da' One that she will be entering in local film festivals this fall.
Georgia is excited about starting Oaks Christian Online High School this year, because she wants the flexibility to pursue her artistic career, but she also takes her college preparation seriously. While she enjoys performing on many levels and knows her future is in front of the camera, she also sees things coming full circle and writing, producing and directing her own work. She hopes to attend USC's School of Cinematic Arts or the American Film Institute after graduating. Georgia says, "Taking a Berklee class is a thrill; for the first time I'm really excited about starting school."
The main campus of Oaks Christian School in Westlake Village, CA opened in the fall of 2000 and Oaks Christian Online School (OCO) opened for full-time, online students in the fall of 2011. The online high school provides a rigorous and challenging college preparatory education for high school students all around the world in a Christian environment. Oaks Christian Online School continues to enroll part-time and full-time students throughout the school year and regularly hosts information sessions on its main campus – 31749 La Tienda Drive, Westlake Village, CA 91362, as well as virtual information sessions for prospective student families. Interested students can visit the website http://online.oakschristian.org to R.S.V.P.
For additional information about Oaks Christian Online School, its courses, curriculum, admissions or application process, please visit http://online.oakschristian.org, call 855.462.6257, or contact a school representative at online(at)oakschristian(dot)org.