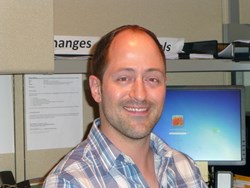 I remain continually excited about this company. We work hard, we have fun, and we are passionate about delivering the best customer service…even when we have to make hard decisions
Seattle, Washington (PRWEB) August 30, 2013
It's true. The rumors you may have heard are true. Sound Telecom customers often mistake him for the resident Radio DJ because of his rich, deep baritone voice. (Not that Sound Telecom has a resident DJ, but if they did, he would surely be hard-pressed to match his velvety vocals.)
Who is "he"? He is Derrec Williams, the likable, albeit very serious, wizard behind Sound Telecom's credit, collections, billing, and order entry processes.
Derrec Williams has been with Sound Telecom since 2008. Derrec brings a wealth of experience with him in credit and collections management in the industries of finance, banking, and B2B services. "Derrec is the consummate professional," says Sydney Morgan Diamond, Sound Telecom's Chief Financial Officer. "He likes to bring value to every department. And as our A/R Credit and Collections Manager, Derrec assists me in staff supervision and oversight of the billing, administration, and order entry processes as well. It would not surprise me to see Derrec's future at Sound Telecom grow even further into other disciplines such as accounts payable and payroll."
"Derrec's passion for excellence, attention to detail and good humor help our clients navigate the oft times turbulent currents of today's economy," says Michael LaBaw, Sound Telecom's President. "He is an out-of-box thinker and is actually quite customer service-oriented. Derrec has helped Sound Telecom clients in more ways than keeping their accounts current and helping to ensure accurate invoicing."
Derrec has helped clients improve their own collection's efforts by helping them implement mailer reminders for their own customers. He went the extra mile when assisting another client get the root of some stolen checks by guiding them through the process of contacting their bank, the police and helping provide guidance to further information on the internet for their own research. Derrec is unrelenting in his pursuit to solve the puzzle and bring answers to the table, and it is this passion that adds value to not only Sound Telecom, but adds value to Sound Telecom's clients. His Radical Credit Management perspective works as a win-win for both customers and Sound Telecom.
When asked about his recent promotion, Derrec Williams modestly replied, "I remain continually excited about this company. We work hard, we have fun, and we are passionate about delivering the best customer service…even when we have to make hard decisions."
About Sound Telecom
Sound Telecom is a leading nationwide provider of 24-hour Telephone Answering Services, Contact Center Solutions and Cloud-based Phone Systems professionally serving customers since 1986 with USA-based agents. For more information, please visit http://www.sound-tele.com.
Contact Information
Michael L. LaBaw, President
Sound Telecom
800-577-1550
http://www.sound-tele.com