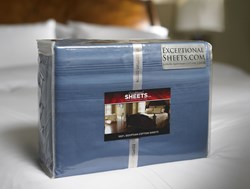 Evansville, Indiana (PRWEB) August 30, 2013
A leading online retailer in luxury Egyptian cotton linens, Exceptional Sheets releases the top 4 reasons consumers favor Egyptian cotton when it comes to linens and bedding purchases. Long considered as 'too expensive' by some consumers, Egyptian cotton linens are making a comeback based on lifestyle choices and hidden benefits.
Online shoppers are often confused as to thread counts and quality contributions when it comes to purchasing bedding for themselves or family members. Exceptional Sheets has prepared the top 4 reasons consumers show a strong preference towards Egyptian cotton linens and bedding based on research, consumer feedback and industry experience.
1. Improved sleep. According to the National Sleep Foundation, almost 60% of adults report having sleep problems. While there are many issues to consider, keep in mind Egyptian cotton is made of long staple or fibers that when woven together creates a smooth, luxurious feel. While the yarn is smaller in diameter, it yields more threads per square inch leading to a stronger fabric, yet light and more breathable for natural sleep.
2. Comfort and durability. A higher thread count typically means a longer lasting quality product. 100% Egyptian linens are known to outlast standard cotton sheets after repeated washing and use. Consumers report enjoying the supple texture and smoothness associated with Egyptian cotton.
3. Superior absorption. There is nothing more frustrating than a towel or washcloth that doesn't properly absorb wetness. High quality Egyptian cotton is known to absorb significantly more water than other inferior substitutes.
4. Protection from allergies. Hypoallergenic products offer a perfect solution for those suffering from dust allergies or other common pollutants. Regular cotton can go through chemical treatments which lead to allergic reactions. Today's Egyptian cotton linens and mattress pads can be made 100% hypoallergenic and 100% washable.
Exceptional Sheets is among the nation's leading online retailers for luxury Egyptian cotton linens and bedding. Their product line is comprised of 100% Egyptian cotton bed sheet sets, mattress pads, duvet covers, bath linens and pillow cases. The company offers free worldwide shipping, featured daily deals and 125% satisfaction guaranteed.
For more information on Exceptional Sheets, visit the website or call our toll free customer support line at 1-800-977-7433 to place an order.