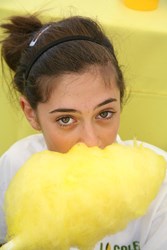 Goleta, CA (PRWEB) August 30, 2013
The 2013 California Lemon Festival presented by Marborg Industries, will be Saturday, September 28th from 10 a.m.-6 p.m. and Sunday, September 29th from 10 a.m.-5 p.m. at Girsh Park in Goleta.
The Goleta Chamber invites everyone to celebrate its 22nd year of delicious lemon food, live entertainment and family fun activities, now in September! There will be a variety of sweet and savory food booths, sponsored by community organizations and local restaurants. Satisfy that lemon craving with lemon meringue pies and bars, funnel cakes, cheesecake, sherbet, and good old fashion lemonade. For those on lemon overload, there will be ethnic and cultural foods to excite your taste buds.
The Lemon Festival provides fun-filled activities and entertainment for all ages. Kids can enjoy a round of mini golf, challenge each other on an obstacle course, take a pony ride and much more. Adults can enjoy an afternoon of shopping at the arts and craft boutique booths where you can find unique handmade jewelry and clothing; all while enjoying a freshly brewed local lemon ale.
The Goleta Fall Classic Car Show will be held Saturday, including a collection of cars from classics to street rods. If you are interested in participating in this year's car show, visit the Lemon Festival website for a registration form!
The Lemon Festival continues to provide a lineup of dynamic live entertainment including local dance and musical groups, guaranteed to get you on the dance floor.
Mark your calendar for the Lemon Festival, September 28-29th! Don't miss the exciting activities, live entertainment, and mouthwatering food. Join us with family and friends to celebrate the 22nd year of the Goleta Lemon Festival at Girsh Park, behind the Camino Real Marketplace (Costco and Home Depot).
The Lemon Festival is Goleta's annual home town, family friendly, event that celebrates the community's heritage in the lemon growing and packing era. It is attended by 35,000 people, utilizes 200 volunteers and showcases over 35 local non-profits.
For more information on the Lemon Festival visit http://www.LemonFestival.com or call the Goleta Valley Chamber of Commerce at 805.967.2500.
Marborg Industries is the presenting sponsor for the 22nd Annual California Lemon Festival.
Venoco is the Co-Sponsor of the event. Cox is the Media Sponsor.
Sunshine Sponsors include Goleta West Sanitary District, ParentClick.com, Santa Barbara News-Press, Santa Ynez Band of Chumash Indians, and The Towbes Group, Inc.
Seedling Sponsors include: Ameravant Web Design, ATK Space Systems, Bacara Resort and Spa, The Berry Man, Inc., Brownstein Hyatt Farber Schreck, Camino Real Marketplace, Citrix Online, Community West Bank, Courtyard Marriott Santa Barbara Goleta, Couvillion Family, DSR Audio, FLIR Commercial Vision Systems, Foundation for Girsh Park, Glen Annie Golf Course, Goleta Water District, Hollister Brewing Company, Ice in Paradise, Jordano's, Latitude 34 Technologies, Maravilla Senior Living Community, Marmalade Café, Montecito Bank & Trust, Nu Image Ad Group, Ramada, Raytheon, Santa Barbara Airport, Santa Barbara Signs and Graphics, Southern California Edison, Spherion, State Farm Agent Kory Robertson, Tri-Valley Trophies, Union Bank, Village Properties, Westar Associates, Wilson Printing
Media Sponsors include: Edhat.com, Family Life Magazine, Noozhawk, Santa Barbara Independent, Santa Barbara Metropolitan Transit District, Santa Barbara News-Press, Santa Barbara Sentinel, TV Santa Barbara, Univision, Central Coast CW-5, KDB 93.7, KEYT, K-Lite 101.7, KRAZY Country 105.9, KSBY 99.9, KTYD 99.9, Radio Bronco 107.7
ABOUT SANTA BARBARA COUNTY
Featured on the cover of Travel + Leisure in May 2013 and voted Best Getaway by L.A. Times Readers' Choice Awards in 2012, Santa Barbara County is located just 92 miles north of Los Angeles and 332 miles south of San Francisco, on the Pacific coastline. Visitors can arrive via scenic Highway 101, train, bus or by flying into Santa Barbara Municipal Airport or Los Angeles International Airport. For travel and accommodation information and to request a free copy of the official Santa Barbara County Visitors Magazine, contact Visit Santa Barbara at 800.676.1266, 805.966.9222, tourism@santabarbaraca.com or SantaBarbaraCA.com. Visitor information is also available at the Visitor Center, 1 Garden Street (at Cabrillo Boulevard).
MEDIA INFORMATION
Stay informed about Santa Barbara news with our Media Center, press releases and blog, http://www.TheSBPost.com. Just getting to know Santa Barbara? The Media Field Guide is a great place to start. Planning a research visit? Use the Press Trip Request form to get the process started. Follow us on Facebook and Twitter for daily updates, and visit our Mobile Site for on-the-go information about dining, wine, accommodations, events, attractions and more.