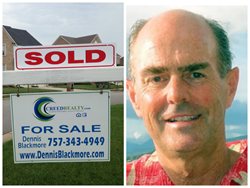 Creed Virginia Beach Realty recommends buyer's understand their Wants and Needs prior to starting a home or condo search
Virginia Beach, VA (PRWEB) August 31, 2013
Sorting out in advance the "Wants and Needs" when buying a home, condo, or oceanfront property in Virginia Beach or Hampton Roads is a must states Dennis Blackmore, REALTOR(R)/Agent Owner with Creed Realty.
Creed Virginia Beach Realty is a full service real estate brokerage committed to providing superior service to buyers and sellers. Creed Realty's mantra, "We exist to serve," stems from beliefs and core values that will not be compromised. Whether new to real estate or a seasoned home owner, real estate learning never ends and advice is free from our REALTORS®.
Understanding Wants and Needs will provide the buyer a big advantage when starting the home or condo search. Wants and Needs can be as simple as price range, bedrooms needed, style of home (ranch or two story), choosing the right neighborhood (read more), downstairs master, garage, schools, pool, or upgraded kitchen. The Wants and Needs can go on forever so really "drilling it down" will help the buyer save time during the search. This can easily be completed by using the enhanced Internet Data Exchange (MLS) available on this webpage. The enhanced MLS search will help the buyer define parameters and receive e-mail alerts immediately of listings meeting their desires.
Once the Wants and Needs are defined, the REALTOR® can focus on finding the most desirable homes and condos that meet the buyer's defined requirements. Prioritizing the Wants and Needs will go a long way to further find the right Virginia Beach or Hampton Roads property.
Sometimes, Wants and Needs are tough for the buyer to define. The REALTOR® can be a huge ally with probing questions to find what is really important. This can be as simple as knowing how important schools are, is a backyard needed, particular neighborhoods, future family plans, commuting time, etc.
Creed Realty's commitment to serve the potential buyer is paramount. Whether 5 or 20 homes viewed, there is no pressure to push the buyer into a contract without fully being convinced it is right for them.
Creed Realty believes that real estate and more appropriately a "home" is an important investment for the buyer. With that in mind, our service continues from the pre, during, and post-closing process. Creed Realty negotiates on the buyer's behalf, takes care of details, and ensures a smooth roadmap to closing.
If you are a potential buyer contact Dennis Blackmore, REALTOR®/Agent Owner with Creed Realty Virginia Beach and let us help find the perfect dream home or condo. You can reach Dennis at (757) 343-4949 or via e-mail here.