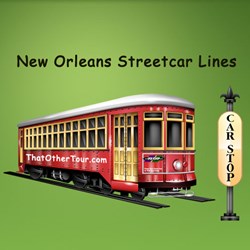 New Orleans, LA (PRWEB) August 31, 2013
That Other Tour LLC, publishers of New Orleans Streetcar Lines App, announced a soft cover edition of New Orleans Streetcar Tours is coming soon. The streetcar tours will feature over 150 homes, churches, schools and businesses and other places of interest in New Orleans. The tours will feature five streetcar lines, St. Charles Streetcar Line, Riverfront Line, Canal Street to Cemeteries Line, Canal Street to City Park/Museum Line and Loyola Avenue/UPT Line to Union Passenger Terminal. New Orleans Streetcar Tours will feature two walking tours, one for the French Quarter and one for the Garden District.
Just a few locations featured in the book are Jackson Square, Café du Monde, French Market, legendary department stores such as Maison Blanche, Gus Mayer and D. H. Holmes. Celebrities' homes and New Orleans famous cemeteries are well represented. All locations will be located no more than three to four blocks from a streetcar stop.
Anyone planning a trip to New Orleans in the near feature must make plans to buy this tour book. The book will also be available for the iPhone, iPad, Amazon Kindle, Barnes and Noble Nook and Android devices.
More information coming soon.