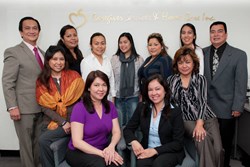 " Caregiver Services... Caring for Life "
Los Angeles, CA (PRWEB) August 29, 2013
Malibu Senior Center Recreation Coordinator Theresa Odello invited resource speakers for the National Falls Awareness Day next month on the week of September 22. Theresa invited Randy Clarito, Director for Business Development and Training of Caregiver Services and Home Care Inc. and BCT Group of Company and Lloyd Bartley, Meadowbrook Community Marketing Director to talk about the facts and statistics about fall and ways being applied in most senior communities to prevent fall which is aligned to this year's theme of NCOA, National Council on Aging, Preventing Falls-One step at a Time.
Falls are one of the leading causes of unintentional injuries in the United States, accounting for approximately 8.9 million visits to the hospital emergency room annually (NSC injury facts 2011). About one third of the elder population over the age of 65 falls each year and the risk of falls increases proportionately with age. For ages 80 years, more than half of seniors fall annually. These documented statistics fall short of the actual number since many incidents are unreported by seniors and unrecognized by family members or caregivers.
Falls are the leading cause of death due to injury among elderly, 87% of all fractures in the elderly are due to falls. Falls account for 25% of all hospital admissions and 40% of all nursing home admissions 40% of those admitted do not return to independent living, 25% die within a year. Over 60% of nursing home residents will fall each year.
The total amount spent annually on healthcare related falls is $30 billion. Medicare costs for hip fractures a s a result of falls is projected to be $240 billion by year 2040. The average cost of a fall injury was $19,440 (including hospital, nursing home, emergency room and home healthcare, physician services not included).
A fall can change your life (Medline plus article). For elderly, it can lead to disability and a loss of independence. If your bones are fragile from osteoporosis, you could break a bone, often a hip. But aging alone doesn't make people fall, diabetes and heart disease affect balance and those that has problems with circulation, thyroid or nervous systems. Some medicines make people dizzy and eye problems or alcohol can be factors. Taking care of your health by exercising and getting regular eye exams and physicals may help reduce the chance of falling. Getting rid of tripping hazards in your home and wearing nonskid shoes may also help.
Other fall prevention tips: secure electrical and phone cords out of traffic areas, remove small throw rugs or use non-skid mats to keep them from slipping, remove tripping hazards (paper, boxes, toys, clothes, shoes) from stairs and walkways, periodically checking of the condition of walkway and steps and repair damages immediately, cleaning up all spills and never stand on a chair, table or other surface on wheels.
To take control of your health, we can follow NCOA National Council on Aging 6 Steps to Prevent a Fall:
1) Find a good balance and exercise program
2) Talk to your healthcare provider
3) Regularly review your medications with your doctor and pharmacist
4) Get your vision and hearing checked annually and update your eyeglasses
5) Keep your home safe
6) Talk to your family members and get their support in taking simple steps to stay safe
Caregiver Services and Home Care Inc. http://www.mycaregiverservices.com and Meadowbrook Senior Living http://www.Meadowbrook-Agourahills.com supports Malibu Senior Center Continuing Health Education Program and creative activities for seniors to keep them abreast of the safety measures to promote well being and healthy lifestyle.
About BCT Group of Company headed by CEO Belina Calderon Tagarao:
Caregiver Services and Home Care Inc. (CS) http://www.mycaregiverservices.com is a premier In-home care service company that provides professional private care duty to seniors and adults requiring assistance in their home and healthcare needs for the past 10 years. The company is run and managed by healthcare Executives with local and international training with combined top level executive work experience of more than 40 years. CS is the only In-Home Care company that has its in-house 'Caregiver University' in Southern California area that provides professional caregiver training held at its Los Angeles head office. CS is a Certified Member of CAHSAH, California Association for Health Services at Home and operates in Los Angeles County, Orange County, Ventura County, San Fernando Valley, San Bernardino County and Santa Barbara County area. Free evaluation, call #213-351-9100 #805-338-8100, #310-779-6254, #818-561-6641 and #562-412-2420.
L.A. Jobs Employment Agency
The leading career and visa specialist in Los Angeles for foreign professionals. L.A. Jobs http://www.lajobsea.com provide more opportunities for international workers who are highly qualified professionals and competitive to be able to build their career in the U.S. The company had successfully placed hundreds of applicants in the past few years even during the period of recession and it had attained a high approval rate of H-1B work petitions and green card of applicants enabling them to take the path to citizenship through employment and live the American dream. The company aims to be the premier leader in the employment industry in the U.S. Visit for free consultation and look for Mari Reola, HR Manager and Pam Sison, Legal and Marketing Specialist or call at #213-351-9100.
Summit Medical Billing
A fast growing Medical Billing company that helps physicians and other medical and healthcare companies obtain payment from insurance carriers and patients by effectively handling insurance claims and aid them to manage their practice and finance side efficiently. Summit Medical Billing aims to establish a strong alliance with the American Medical Association and continue to provide help to their members increase their revenue with the efficient handling by the company's billing expert. Call for free evaluation and consultation at #213-351-9100.