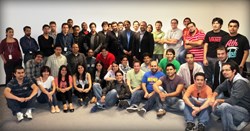 We've seen very rapid growth on our business and in many ways we thank our amazing partners to help us bring innovation and complete industries into the mobile revolution. ~Abhijeet Pradhan, CTO of iTexico
Austin, TX (PRWEB) August 30, 2013
"So much potential, that's how I can describe the mobile development scene in the industry now. We are so excited to be part of this movement that has shaken up so many businesses and proud to have such an influence in our client's success. The time has come to invite more organizations that aim to take advantage of the mobile revolution and work together towards innovation." said Anurag Kumar, CEO of iTexico.
iTexico, a nearshore mobile app development company based in Austin and a strong presence in Mexico and Latin America, announces the launch of a new partner program designed to to accelerate its partner organizations' sales revenue and profit. Partners will be able to leverage iTexico's many unique capabilities and benefits in expert mobile application development to better serve the marketplace.
"We are looking to develop the best relationship with our existing and future clients and partners as well as establish a model that works for all the great companies that are already trusting us and with whom we have an amazing relationship. We are aware that partners are looking for vendors that can help minimize the risk and cost of moving towards new business models, and we took this into account when we designed this program. With our new Partner Network, we will help them to differentiate and add significant value to customers, while maintaining profitability and rewarding performance," said Guillermo Ortega, COO of iTexico.
This new partner network initiative will integrate iTexico's existing partners in the US and other countries to create a mutually beneficial ecosystem where small to large companies can focus on growth and have the expert arm of iTexico's extensive team of experts. This will enable them to always be ready to complement business engagements and increase their profit as well as to create and sustain a strong relationships.
"We've seen very rapid growth on our business and in many ways we thank our amazing partners to help us bring innovation and complete industries into the mobile revolution. Every day more and more companies are interested in taking advantage of the benefits of going mobile and we are thrilled that so many of them are choosing us to lead the way," said Abhijeet Pradhan, CTO of iTexico.
Existing partners of iTexico include the industry leading company Appcelerator, creators of the cross-platform mobile development technology Titanium with whom iTexico work on training and business enablement with clients in the United States, Mexico, Chile, Argentina, and other places in Latin America. Xamarin is another strong partner of iTexico with whom they work together to bring the Xamarin mobile development tools to a larger audience and increase their exposure to larger audiences outside the US.
iTexico's Partner Network will allow members to access a wide range of services as well as take advantage of the newly introduced expert mobile programs iOS7 Jumpstart and MobiAppCare. iOS7 Jumpstart is the perfect way to get an app looking and running great for Apple's upcoming mobile operating system iOS 7. MobiAppCare is a special maintenance and support program for upgrading and maintaining mobile applications in the best possible shape for the marketplace.
More partners include the mobile consulting company Propelics, the giants of hardware and software IBM and Microsoft as well as Accelerance, a leading outsourcing service company with partners all across the world in places like North America, Latin America, Eastern Europe, India, Southeast Asia, and China. Also, iTexico has a very strong relationship with Dawcons, an expert software development company based in Guadalajara, Mexico specialized in creating web and mobile solutions for high profile clients in Mexico.
iTexico, founded in 2009, currently employs more than 60 expert resources in mobile and web technologies who are being constantly trained in the state-of-the-art technologies, platforms and languages to provide a world-class service to their customers.