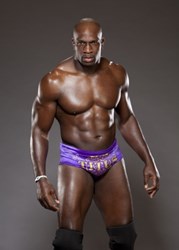 Los Angeles, California (PRWEB) August 30, 2013
WWE Superstar Titus O'Neil is once again joining Tom Joyner and friends to celebrate the extended Labor Day weekend with families from all across the country at The Allstate Tom Joyner Family Reunion. The family focused event is being held Thursday, August 29 through Monday, September 2, 2013 at the Gaylord Palms Resort & Convention Center in Orlando, Florida.
Tom Joyner, host of the #1 nationally syndicated Tom Joyner Morning Show, invites celebrities, community leaders, and families to come together over the Labor Day holiday for family fun and excitement.
"I am happy to join my Omega Psi Phi fraternity brother Tom Joyner for his annual event that showcases the most powerful institution in the world, the family," said Titus O'Neil. "In spite of my travel schedule, my family is my first priority and being able to participate in an event that celebrates families is an honor and privilege."
O'Neil is participating for the second year as a guest panelist joining other professional athletes and entertainers on a panel designed to help educate parents to navigate the path of being a student athlete titled "Your Aspiring Athlete."
Other notable 2013 attendees of are Fantastia, Jermaine Dupri, Bow Wow, Anthony Hamilton, Da Brat, Jagged Edge, Janelle Monae and more.
The Allstate Tom Joyner Family Reunion has invited over 16,000 families in years past to participate in family-centric festivities. From theme parks, to concerts and enlightening seminars – the weekend is sure to be filled with interactions and activities for people of all ages.
For additional information about the Tom Joyner Family Reunion, visit the official website
About The Burke Management Firm
We understand that being a "Star" is a lifestyle! Burke Management's goal is to provide their artist with all necessary tools required to be successful in the Entertainment Industry. Being very "Hands On", separates Burke Management from other management firms.
Burke Management believes in the three "P's": Provide, Promote, and Protect. It is it's duty to Provide resources that will allow the artists to fine tune their art. In addition, it is it's job to Promote it's artist throughout the entertainment industry. Finally, it is Burke Management's obligation to Protect it's artists' best interests at all times.
Burke Management's founder is from the South and has incorporated the ideals of that "Warm Southern Hospitality" into the fabrics of his business.