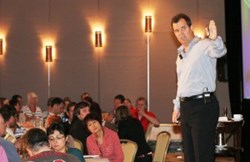 The key in promoting a property for sale is to sell the financing first because not a lot of money is currently available for home loans right now
(PRWEB) August 30, 2013
Rick Otton, author of How To Buy A House For A Dollar, recounts some examples to prove why ugly marketing is more effective than placing shocking content in real estate advertisement in Australia.
A luxury apartment developer recently launched an online campaign using a picture of a naked woman to promote its new development in Surry Hills, according to a report made by Tim McIntyre for News Limited Network on 28 August 2013.
Critics said that the image doesn't have any relevance with the upscale development, but representatives of the real estate developer claim that their high quality developments "needed an eye catching campaign."
"The key in promoting a property for sale is to sell the financing first because not a lot of money is currently available for home loans right now," Mr. Otton explained.
"I like telling my students that an effective marketing technique is one that keeps the phone ringing. It doesn't have to the glossiest and prettiest, but it must be something that no one else will do," said Mr. Otton in a recent interview.
Mr. Otton then shared some of the ways his students applied "ugly marketing" in promoting their property businesses.
"One of the most basic yet effective 'ugly marketing' technique is to wear sandwich boards in the street. A student calculated that he earns approximately $40,000 for every 5-6 hours he walks around with a sandwich board," he recalled.
"Many of my former students also send in pictures of their cars painted with messages saying that they buy and sell houses along with their phone numbers, and it's been proven that they get more phone calls when an outrageous message is painted in the cars," he said.
"Some also use home-made signs in promoting a property for sale. One filled the front yard with signs until he made the headline of the local news, while another used arrow shaped signs and it pointed buyers to the direction of the real estate he was selling," he added.
Mr. Otton reminded property investors that, "Even if having an eye-grabbing advertisement is important, its message must be direct to the point in order to cut to the clutter."
Visit http://www.howtobuyahouseforadollar.com/ now to learn more investment property tips for beginners.