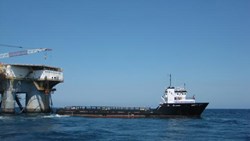 Houma, Louisiana (PRWEB) August 31, 2013
MarineCFO, a leading provider of software solutions to the marine transportation industry and a division of VerticaLive Inc. (http://verticalive.com), announced that Kim Susan, LLC (http://kimsusan.com) has chosen to implement the MarineCFO Fleet Maintenance software solution, including the Health, Safety, and the Environment module.
For almost 40 years, Kim Susan, LLC has operated a fleet of workboats in support of the oil and gas industry in southern Louisiana. The company's modern supply vessels, coupled with superior service, innovative technology, and high safety standards has vaulted it to the forefront of the offshore marine transportation industry.
"MarineCFO's Fleet Maintenance software will give us the ability to track preventive and reactive maintenance on our vessels, thus allowing us to continue to provide our customers with top-notch equipment operated under strict safety guidelines. The outcome is excellent service to our customers, resulting in a job well done. The MarineCFO team is steeped in this industry. The company is the right kind of partner to help us take our operation to the next level," said Kent Fagan, General Manager of Kim Susan. "We're eager to implement MarineCFO within our organization."
"Kim Susan, LLC is a well-respected provider and employer in the offshore marine industry," said Matthew DeVoll, CEO of VerticaLive. "It is a privilege to serve an organization with such a long and distinguished history. We look forward to helping the company achieve the operating efficiencies that the MarineCFO implementation will deliver."
About Kim Susan, LLC
Kim Susan, LLC operates a modern fleet of vessels to serve the offshore operations of the oil and gas industry in the Gulf of Mexico. The company has been in operation since 1974, providing an unprecedented level of service, safety, and performance. The company is headquartered in Larose, Louisiana.
About MarineCFO
MarineCFO (http://marinecfo.com), a division of VerticaLive, is the leading provider of On-Vessel, Marine Operations, Personnel, Fleet Maintenance, and Financial Management solutions to the marine transportation industry.
About Verticalive
VerticaLive is a provider of vertical ERP solutions and development technology for Microsoft platforms. The VerticaLive Business Framework enables rapid development and deployment of private or public cloud applications, virtual hosted solutions, or on-premise solutions. VerticaLive is headquartered in Houma, Louisiana, and has offices in Los Angeles, Calgary, and London. (http://verticalive.com)