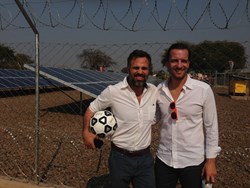 Fossil fuels are dirty, hard to extract finite resources, but the sun shines freely and in abundance here [in Africa], and Empowered by Light is demonstrating the sun's superiority as a source of energy. - Actor and clean energy activist, Mark Ruffalo
Sioma, Zambia (PRWEB) August 30, 2013
Actor and activist Mark Ruffalo, who recently played "The Hulk" (The Avengers, 2012) joined key Zambian government officials and business and tribal leaders today at an official ribbon cutting ceremony for the first solar-powered micro-grid at a Zambian school. More than 100 people attended the event, including the Education Minister of Zambia and Oscar-winning director Zana Briski (Born Into Brothels, 2004).
The Sioma High School project, featuring a 24kW photo-voltaic array with battery storage, was spearheaded by the U.S.-based not-for-profit organization, Empowered by Light (EBL). Designed and built by Standard Microgrid, the system will provide clean power to 100 percent of the campus, including four dormitories, kitchen and dining halls, and seven classrooms used by more than 600 students. EBL raised close to $200,000 to complete the project, which also involved several large donations. Suntech, one of the world's largest producers of solar panels, donated all of the panels for the system. SMA and Rolls Surrette donated and/or provided batteries and inverters at reduced prices, and Florida-based Lighting Science Group donated LED lighting to upgrade the entire campus. EBL raised the funds for the project from individual and corporate donors, including Clif Bar and Zanaco--Zambia's largest bank, among others.
Sioma High School had previously relied on three outdated and inefficient diesel generators to power its campus. Sioma was selected to receive the solar and battery system after EBL team members visited the school and saw the children trying to attend classes and study with the noise and air pollution created by the diesel. EBL had delivered solar-powered LED lanterns to elementary schools in the same district as Sioma (Shangombo) during the prior two years.
"We are honored to be able to give the students of Sioma High School clean, renewable power," said EBL co-founder Marco Krapels, "We hope Sioma will serve as a showcase to Zambia and all of Africa that it can literally leapfrog decades of fossil-fuel infrastructure, and power itself using renewable energy." EBL advisor and clean energy activist, Mark Ruffalo, who traveled to Zambia to honor the event, said, "I'm thrilled to be a part of this effort and witness what we hope is the future of electric power in Africa. Fossil fuels are dirty, hard to extract finite resources, but the sun shines freely and in abundance here, and Empowered by Light is demonstrating the sun's superiority as a source of energy."
To request pictures of the ribbon-cutting ceremony or for more information, please contact Empowered by Light at info(at)empoweredbylight(dot)org.
Empowered by Light is a non-profit organization whose mission is to improve lives through renewable energy technologies. Over the past two years, the organization has distributed more than 1,500 solar-powered LED lights to schools in the Western Province of Zambia providing light to more than 8,000 school-age children. An estimated 1.5 billion people worldwide do not have access to electricity. Providing access to power has proven to be enormously beneficial to people's education, health, and livelihood.
Empowered by Light is based in Larkspur, Calif. For more information, visit http://www.empoweredbylight.org.