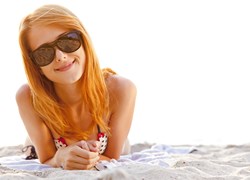 We are all susceptible to the effects of UV radiation and should all practice 'safe sun'.
London (PRWEB UK) 30 August 2013
Human exposure to solar ultraviolet radiation has important public health implications. Almost everyone has some exposure to ultraviolet radiation on a daily basis. It is an exposure that cannot be avoided, for avoiding all exposure would create a huge burden of skeletal disease from vitamin D deficiency, which is absorbed from the sun's rays by the skin.
However, evaluation of the burden of disease created by excess exposure to UVR is very important since avoidance of excess exposure is a relatively simple public health message. Evidence of harm associated with overexposure to UV has been demonstrated in many studies that bear results of skin cancer and malignant melanoma being among the most severe health effects, but a series of other health effects have also been identified.
Melanoma is the least common but the most lethal of skin cancers. Accounting for 75 percent of all skin-cancer deaths, melanoma originates in pigment-producing skin cells called melanocytes. Melanoma is believed to be a multi-step process of genetic mutations that increase cell proliferation, cell differentiation and cell death and increase an individual's susceptibility to ultraviolet (UV) radiation.
Two types of UV radiation -- UVA and UVB -- can mutate DNA in skin cells and lead to melanoma. According to a WHO report, about 48,000 melanoma related deaths occur worldwide per year. 1 A number of rare mutations, which often run in families, are known to greatly increase one's susceptibility to melanoma.
Several different genes have been identified as increasing the risk of developing melanoma; some more common genes, which determines pigment in hair colour and skin tone, is influenced by the melanocortin-1 (MC1R) gene receptor. In experiments with mice and cell cultures, researchers found that the same MC1R mutation -- called MC1R-RHC -- triggers a specific biochemical signalling pathway in any of the one or two percent of the population that are born redheads, who are exposed to ultraviolet radiation from the sun and other sources. 2
These experiments were conducted by the Beth Israel Deaconess Medical Centre (BIDMC) and Boston University School of Medicine (BUSM) and are reported online in the journal Molecular Cell, providing new insights for treating and preventing this dangerous type of skin cancer.
"In this current study, we have demonstrated that the mutation MC1R-RHC promotes the PI3K/Akt signalling pathway when a red-haired individual is exposed to UV radiation," explains co-senior author Wenyi Wei, PhD, an investigator in the Department of Pathology at BIDMC and Associate Professor of Pathology at Harvard Medical School.
PI3K/Akt is a well-known cancer-causing pathway, implicated in breast cancer, ovarian cancer and lung cancer. Previous work by the study's co-senior author Rutao Cui, MD, PhD, a member of the BUSM Department of Dermatology, had demonstrated that MC1R plays a key role in protecting melanocytes from UV-induced DNA damage.
In this current study, Wei and Cui wanted to find out how this was happening. Their experiments showed that in normal circumstances, MC1R was binding to PTEN, a well-known tumour suppressor gene. PTEN acts to safeguard against cancer; without PTEN, the end result is elevated signalling in the cancer-causing P13K/Akt pathway.
The team additionally found that in these same MC1R-RHC pigment cells, elevated PI3K/Akt activity was boosting cell proliferation and was synchronizing with another well-known cancer mutation in the BRAF gene, found in nearly 70 percent of human melanomas, to further accelerate cancer development.
The authors add that these new findings suggest that drug inhibitors that target the PI3K/Akt signalling pathway might be used in combination with Vemurafenib, a drug that targets the BRAF oncogenic protein, to treat melanoma patients who have both BRAF and MCIR variants.3
By understanding what to look out for, and seeking immediate medical advice when in doubt, many cases of melanoma can be dealt with. Almost all melanomas start with altering the colour and appearance of normal-looking skin.
This area may be a dark spot or an abnormal new mole. Other melanomas form from a mole or freckle that is already present in the skin. It can be difficult to distinguish between a melanoma and a normal mole. Not all melanomas can be prevented, but there are various ways that can help reduce the risk of getting melanoma.
The most important way to lower your risk of melanoma is to protect yourself from exposure to UV radiation. Practice sun safety when you are outdoors. A good rule of thumb for decreasing ultraviolet light exposure is to avoid the sun between the hours of 9 a.m. and 3 p.m. or avoid the sun when one's shadow is shorter than one's height. These are rough rules, however, and can vary depending on locality and individual skin cancer risk. 4
ChemistDirect Superintendant Pharmacist Omar El-Gohary advises: "This research highlights that some of us are more risk of skin cancer than others, however we are all susceptible to the effects of UV radiation and should all practice 'safe sun'. Precautions include; avoiding unnecessary sun exposure particularly during 10am – 4pm when UV rays are at their strongest, wearing a broad-brimmed hat to keep as much sun of your face as possible, ensuring skin is adequately covered with clothing and the use of sun screen with an SPF of 30 or above".
References:
1) http://www.who.int/uv/health/solaruvradfull_180706.pdf
2) http://www.webmd.com/melanoma-skin-cancer/news/20130822/research-gets-to-root-of-redheads-higher-melanoma-risk
3) http://www.sciencedaily.com/releases/2013/08/130822122525.htm
4) http://www.cancer.org/cancer/skincancer-melanoma/detailedguide/melanoma-skin-cancer-prevention