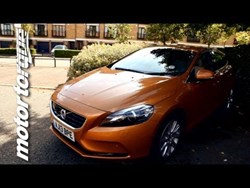 Liverpool (PRWEB UK) 30 August 2013
The medium hatchback sector has been dominated by the BMW 1 series and Audi A3; however, Volvo has made a new addition to this competitive sector with the V40. In their latest video, MotorTorque finds out whether it can stand up against tough competition.
Volvo's reputation for safe cars will be cemented with the Volvo V40; it features the world's first pedestrian airbag.
Comfortable, stylish seats and a classy interior make the V40 a fantastic choice for business drivers or as a family hatchback. It's bound to be a popular fleet car as it has a great first impression but leaves a lasting one, too.
With good fuel economy figures and practicality, it's clear to see why the V40 has been so popular.
"Bored of German Techno? Try some Swedish Metal" – Read more on the Volvo V40 here: http://www.motortorque.com/volvo/v40/news/bored-of-german-techno-try-some-swedish-metal-22552
Want to know more about the Volvo V40? Why not watch the video review on the MotorTorque main website: http://www.motortorque.com/videos/new-car-reviews/2013-volvo-v40-review-23209
About MotorTorque.com:
Since 2006 MotorTorque.com has been providing car enthusiasts with exclusive news, reviews, ratings, features and video content related to the auto industry. MotorTorque.com can also provide new car buyers with the best quotes, test drives and brochures for new models from the world's leading car manufacturers.
Contact MotorTorque:
Simon McBride,
Editor
MotorTorque.com
1st Floor Beetham Plaza,
25 The Strand,
Liverpool,
L2 0XJ
Tel: +44 (0)844 445 7862
Email: simon(dot)mcbride(at)motortorque(dot)co(dot)uk