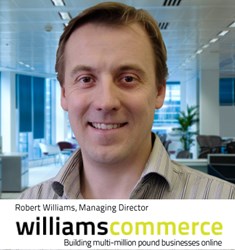 Williams Commerce's cloud hosting is capable of speeds 100 times faster than a typical LAMP stack running Magento
(PRWEB UK) 30 August 2013
To an extent, all elements of online performance can be traced back to site speed. Slow load times have a devastating effect on both conversion rate and visitor retention, and many companies have had to learn the dangers of failing to invest in modern technologies the hard way. Boosting performance and speed wherever possible is key to success, a goal Williams Commerce work towards constantly. Williams Commerce's cloud hosting is capable of delivering speeds 100 times faster than a typical LAMP stack running Magento.
By optimising the Magento stack with the company's new cloud hosting platform, they're able to provide a highly optimised Magento cloud hosting solution. The latest software and hardware acceleration technology is put to excellent use, delivering a high performance, high availability, Magento site experience. Based on the latest HP Proliant DL380 Gen8 Server hardware VMWare cloud hosting architecture in Ubuntu, clients can rest assured their data is in responsible hands.
With the increasingly essential nature of online technology to modern businesses of any size, keeping data safe and secure has never been more significant. With Williams Commerce's cloud hosting all information is protected via daily remote backup, so clients never have to worry the loss or corruption of integral data.
Beyond speed and safety, support is key to the company's new service. All clients have access to 24/7 IT support, with initial response times of only 15 minutes when using the UK helpdesk.
The new service offers increased Magento performance, high availability, close to zero downtime, the latest hardware assuring great reliability, and direct access to an expert support analyst on the UK helpdesk within three rings. All this makes Williams Commerce's new cloud hosting service a safe and valuable bet for UK businesses of all sizes. Accompanying the company's close-knit team of Magento Certified developers Williams Commerce are fast becoming a one-stop solution to Magento eCommerce development.
Williams Commerce can be contacted by phone on 0845 0942 404, or by sending an e-mail through to sales(at)williamscommerce(dot)com. For more information about the company's B2B eCommerce, search marketing and cloud hosting capabilities simply visit http://www.williamscommerce.com.