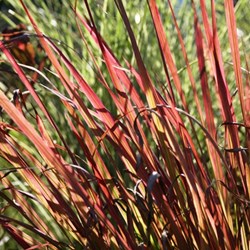 Extending season interest through savvy planting choices is a top priority for many UK gardeners, and English Woodlands are looking to support them
(PRWEB UK) 30 August 2013
For gardeners across the UK summer brings a magnificent display of foliage, flowers, and fauna. Much needed sunlight serves to highlight the colours and textures on display, along with giving gardeners an extra reason to get outside. As August comes around these exhibitions begin to conclude, as flowering plants prepare for a more restrained autumn.
Extending seasonal interest through savvy planting choices is a top priority for many UK gardeners, and English Woodlands are looking to support them with an extended selection of ornamental grasses.
There's plenty to be seen in the current selection, with the company offering a wide variety of species based on their unique shapes, flowers and foliage. Imperata Red Baron is currently being featured for its deep, red leaves, ideal for highlighting borders. The company are also selling a number of Miscanthus grass specimens, including Miscanthus Flamingo and Morning Light. The former providing claret tinted flower plumes during late summer, while the latter boasts tall, narrow, green leaves with light creamy margins.
Other noted varieties include Carex testacea, the Orange New Zealand sedge, noted again for distinctive foliage, bringing shades of orange to the garden, and Pennisetum Hameln, the Chinese Fountain grass, a clumping grass with dark leaves, and pleasant spikelets of fluffed greenish flowers during late summer.
These specimens and more feature considerable potential within a well-structured garden, and are currently being offered in 10 litre pots at £24.00 apiece, including VAT. Secure delivery charges vary by location, and visitors can check prices before buying at English Woodlands' Delivery Calculator.
English Woodlands supply trees, plants, and planting accessories to amateur gardeners and professional landscapers across the United Kingdom, and everyone in between. Operating since 1919, they are now one of the country's leading tree nurseries. Interested parties are free to browse their site or visit the charming East-Sussex nursery in person.
For help setting up an order, questions about the company's current stock and promotions, or simple enquiries regarding planting choices and technique, a team member will always be happy to help and can be contacted by phone on 01435 862992, or by e-mail at info(at)ewburrownursery(dot)co(dot)uk. Prospective buyers are asked to call ahead and check availability prior to visiting the nursery with a purchase in mind, and can always visit http://www.ewburrownursery.co.uk/ for more information.