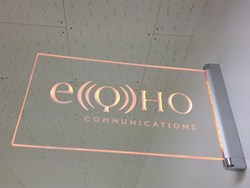 EQHO is committed to excellence. Attaining ISO 9001 has given us a framework by which to implement strict process adherence, and provided a platform on which to continually improve.
Bangkok, Thailand (PRWEB) August 30, 2013
EQHO Communications received the International Organization for Standardization's (ISO) quality assurance certificate earlier this month. The company, who specialize in Southeast Asian localization and translation services was awarded certification by Cologne based TÜV Rheinland. The independent body, established in 1872, provide technical services worldwide.
The ISO is the world's largest developer of standards, with almost 20,000 standards that cover nearly every aspect of everyday life from household products to financial services. It sets specifications for efficient, effective services and good practice, across all industries. Certification is recognised globally to facilitate international trade.
ISO 9001:2008 is a benchmark for quality. It requires the implementation of quality management systems in all business areas including services, equipment, facilities, employees and training. To become accredited companies must demonstrate they meet the regulatory requirements and apply the system effectively, so it directly benefits consumers.
The quality management principles focus on the organization's core objectives and its working practices. An audit involves:

Defining management processes.
Assigning areas of responsibility across the organization.
Identifying more efficient and time saving processes.
Setting a path for continuous assessment and improvement.
Subsequently, overall quality, service level and efficiency are improved.
EQHO Communications spokesperson Steven Bussey explains how the process has benefited the company: "EQHO is committed to excellence. Attaining ISO 9001 has given us a framework by which to implement strict process adherence, and provided a platform on which to continually improve."
"The benchmark for quality continues to rise in the localization industry. ISO adherence will ensure we meet and exceed the quality expectations of our customer base. The company has experienced exponential growth in the last 3 years, 17% was achieved from 2011 to 2012. ISO has enabled us to restructure and streamline all areas of the business, with quality assurance as our principal aim."
"Detailed and defined ISO processes have been implemented in all departments including linguistics, resource management, localization engineering, DTP, QA, voiceover and multimedia, project management and customer satisfaction. With the right foundations in place and an agenda for continuous improvement, we can deliver greater client satisfaction."
"A further benefit going forward is that, it will allow EQHO to serve new clients in certain industries which demand ISO suppliers, such as medical and other technical industries."
About EQHO Communications
EQHO Communications - one of Southeast Asia's largest independent localization firms, has over 80 in-house staff. Building on a well-educated labor base in Thailand, EQHO has created an internationally recognized localization firm working in all major commercial languages, including rarer Southeast Asian language services, as well as Chinese, Japanese and Korean. EQHO operates from a 1000-square-meter office in central Bangkok. With in-house linguists, multilingual DTP operators, localization & multimedia engineers, and on-site recording studios, EQHO offers an unrivalled level of service and rapid turnaround. Languages like Thai, Lao, Chinese, Vietnamese, Burmese and Khmer have character sets that pose unique challenges. For this reason, it is essential to have layout staff and native linguists under the same roof. Clients include: Acronis, SAS, Citrix, ABBYY, AVG, Dow, P&G, Siemens, Transocean, Shell, Michelin, Air France, Sheraton, Unilever, and many more. In addition to its Headquarters in Bangkok, EQHO has facilities in Vientiane, Lao PDR, in addition to sales offices in Brno, Czech Republic, Los Angeles, U.S.A and Sydney, Australia.