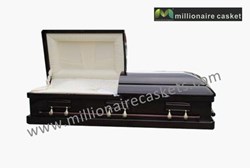 (PRWEB) August 30, 2013
MillionaireCasket.com, a leading casket manufacturer, has recently unveiled its solid mahogany wood casket collection (http://www.millionairecasket.com/solid-mahogany-wood-2/) to its product catalog to develop the international market.
According to the CEO of the company, the solid mahogany wood caskets are made in different sizes according to the customer's requirements. They can be customized with customers' logos or others. MillionaireCasket.com's products are very popular in the market for the high quality. More information about the specification, construction, exterior fittings and interior suites can be available from the sales staff of the company.
Zoe Wong said, "Our wood caskets will save you $100's or even 1,000's off your total funeral costs, because you are buying directly from the original manufacturer, not a 3rd party handler. In recent years the demand of wood caskets has increased dramatically, the overall quality of the products in the market is much lower than ours. Our wood caskets are 100% manufactured with the high-quality craftsmanship and materials. Their renowned durability proves, year after year, to be a great comfort to love-ones."
About MillionaireCasket.com
MillionaireCasket.com is a leading casket manufacturer from China, and focuses on the business of casket wholesale. The standard quality control policy is strictly applied here, and a third party quality assurance is also available.
More details can be found at http://www.millionairecasket.com/.