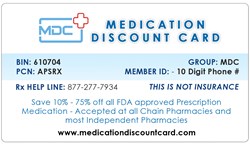 (PRWEB) August 30, 2013
It is estimated that over 100,000,000 Americans currently live with chronic pain or frequently recurring pain. This can significantly impede productivity and quality of life, rendering sufferers unable to care for themselves or their children or to get and keep a job. It can even impact something as simple as making plans and following through. Chronic pain costs over $600,000,000 a year in health care costs, and even more in missed work hours and lost productivity. Even more damaging is the potential for misuse of pain medications, which is especially prevalent among patients who are unable to afford prescription painkillers. This is one of the reasons MDC has stepped up to offer Tramadol discount cards, helping patients afford to fill (and take) their medication according to doctor's orders.
It's no secret that prescription medication costs in the United States are among the highest in the developed world. Even patients with insurance coverage can have difficulty making prescription copays. That's why MDC offers Tramadol coupons for savings on prescriptions an existing plan may not cover. Whether a patient is uninsured or underinsured, Tramadol discount cards are a great way to save money and afford the prescriptions patients need to manage pain and improve their quality of life. Tramadol coupons and medication discount cards from Medication Discount Card LLC can save patients up to 75% on prescriptions for hundreds of popular prescriptions including Tramadol.
Tramadol discount cards from MDC are simple to get and convenient to use. Simply download at medicationdiscountcard.com. There is no questionnaire or medical exam, and the card is available at absolutely no cost. Print cards, Tramadol coupons, or other coupons on a home printer, or Medication Discount Card is happy to send cards via postal mail. After that, simply present the Tramadol coupon card to one of thousands of participating pharmacies, and receive savings of up to 75%.
About Medicationdiscountcard.com
Medicationdiscountcard.com was started to provide discounts on prescription drugs to those who need it most. Our goal is to provide you with the largest savings possible when compared to other cards. We invite you to compare the savings our card will provide to other leading providers.