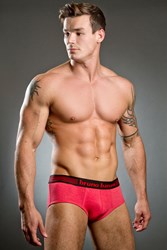 It's true, some guys might go a whole year without buying any new pants at all, but others will buy dozens.
(PRWEB UK) 30 August 2013
Reporting on the latest findings from consumer panel analysts Kantar Worldpanel, The Economist in the UK explains that lingerie sales have weathered the economic storm pretty well (http://www.economist.com/news/britain/21584382-brief-article-underwear-provides-excuse-bad-puns-bare-necessities). But so have men's undies, in fact more so for online specialists like Deadgoodundies.com, says one of its founders, Jane Garner.
"Kantar is monitoring consumer behaviour and reports that while women buy 10 pairs of knickers (along with four bras) on average each year, men only treat themselves to seven new pairs of underpants. It's true, some guys might go a whole year without buying any new pants at all, but others will buy dozens, so the simple figure of seven per annum doesn't reflect the full picture," she explains. "Our customers are averaging twice that many."
"Deadgoodundies.com has been selling men's underwear since 2007 and this year our average number of products per sale has been creeping up. We sell 4,000 to 5,000 products a month and you can't sustain that rate if men are only buying seven pairs of boxer shorts a year."
The Deadgoodundies website sells the most extensive range of men's underwear styles from thongs and micro briefs to maxi briefs, boxers and long johns. Stocking more than 20 designer brands from around the world, DGU complements its undies with men's swimwear collections and selected nightwear, loungewear and socks.
"Our average is between three and four products per customer per purchase, but that's the overall average. Some buy a dozen pairs of pants once or twice a year, others five pairs a month. Some more than that," says Jane.
Online shopping is very different from a retail environment for men. It is private, easy to access and offers constantly changing products. Jane believes the privacy element might be reflected in research findings when men are asked about their underpants buying habits.
"If you ask Joe Bloggs in the street how many pairs of underpants he owns, he's not likely to know. The same applies if you ask what he bought last, unless he bought those undies himself, or he always wears exactly the same thing. Or he's very fashion conscious. Ask Deadgoodundies' regular customers what they bought last and you're probably going to get a detailed response and a critique!"
Jane believes that the commercial performance of men's underwear has been much more consistent in the downturn than women's lingerie, which now seems to be turning the corner. "The way our daily sales are going this summer, we are confident that this year will beat 2012. Our customers are definitely buying more on average each time they visit DGU. As we've always said 'You provide the goods, we'll provide the packaging'."
Company Information
Deadgoodundies is an online only retailer stocking the best in designer men's underwear and swimwear from all over the world including: (in alphabetical order) Big Boys, Body Art, Bruno Banani, Bum-Chums, Clever Moda, Doreanse, Ergowear, Gregg Homme, HOM, James Tudor, Jockey, Joe Snyder, MaleBasics, MANstore, Mey Bodywear, Mundo Unico, Nils Bohner, Obviously For Men, Olaf Benz, Pikante, Sloggi and Solar TanThru. DGU stocks everything from thongs and strings to briefs, hipsters and shorts as well as selected loungewear, socks, T-shirts and more from their best selling brands.
DGU are incredibly media friendly and always have high res images for fashion pages and samples for photo shoots as well as expert comment and market insight from partners Adam Davies and Jane Garner.
For more information contact DGU PR Jane on 01743 271615 (international +44 1743 271615) or email pr(at)deadgoodundies(dot)com