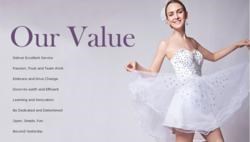 (PRWEB) August 30, 2013
DressyProm.com, a well-known wedding dress business, has recently released its new collection of unique prom dresses (http://www.dressyprom.com/Unique-Prom-Dresses), and announced a special offer on these new dresses, which now are offered with big discounts, up to 59% off.
Some of the highlights from these new dresses are the different designs and colors, including tartan, stripes, floral patterns, polka dots, and solid colors. DressyProm.com has been a leader in the industry, and it is devoted to manufacturing high quality trendy designs for its clients worldwide. The company strives for not only premium quality trendy dresses, but also 100% customer satisfaction. With that in mind, DressyProm.com offers all its dresses at reasonable prices.
DressyProm.com has recently hosted a VIP customer party to celebrate its success in women's dresses. The company also announced that they would invest more money and time on a great collection of trendy skirts, dresses, shorts, and tank tops.
Furthermore, the company is offering thousands of different women's dresses (first communion dresses, Quinceanera dresses, etc.) on its website. Its frequently updated website of DressyProm.com provides consumers with a great selection of products from various designers.
About DressyProm.com
DressyProm.com is one of the world's leading wedding dress manufactures and retailers, offering a wide range of Quinceanera dama dresses, modest prom dresses, wedding dresses, bridesmaid dresses, evening dresses, cocktail dresses, and more. The company aims to deliver ladies worldwide all kinds of dresses at acceptable prices.
More information can be found at: http://www.dressyprom.com