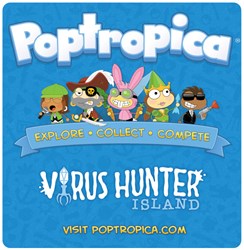 With the debut of 'Virus Hunter Island,' Poptropica fans will now have an amazing multimedia experience.
Boston, Mass. (PRWEB) August 30, 2013
Poptropica players will embark on a mission to locate the source of a dangerous disease with the launch of "Virus Hunter Island." Poptropica Members with Early Access can begin their adventure today on the site's 35th Island. Non-Members will have access to a limited demo of "Virus Hunter Island" before its public launch on Sept. 26, 2013.
On "Virus Hunter Island," Poptropica players will learn that an unknown citizen harbors a dangerous new virus. Their mission is to locate Patient Zero and eradicate the disease before it spreads. Their search will take them on a perilous journey to the most far-out place of all – inside the human body.
On this fantastic voyage, Poptropica players will experience the virtual world's new and enhanced features, including better navigation, a larger screen and, for the first time, a full soundtrack. Players who complete the mission can find out their rank and see other top finishers by viewing the Virus Hunter World Champions player map, which will also show all the places around the world where Virus Hunter Island has been played.
"With the debut of 'Virus Hunter Island,' Poptropica fans will now have an amazing multimedia experience," said Jess M. Brallier, publisher of Poptropica. "As they are solving this scientific quest, they will experience new sights and sounds that will make the human body and their adventure come to life."
At public launch, Poptropica Members will have access to a special "Virus Hunter Island" bonus quest where they will discover that while Poptropicans are feeling fine, man's best friend isn't so lucky. A sick dog needs their help and they must head back into the fray to take down a new threat: the vicious heartworm.
Poptropica Members can take advantage of a "Virus Hunter Island" gear pack, which includes a Sneezing Powder item, Inside-Out power, and, during Early Access only, a Virtual Virus costume. Even more Members-only exclusives are available for Virus Hunter Island and everyone can download a free desktop wallpaper and printable postcards.
Hundreds of millions of kids have visited Poptropica since its launch five years ago and the number grows every day. Poptropica players come from more than 200 different countries and territories and have their web browsers set to more than 100 different languages. The virtual world offers kids a safe place to play and connect online.
All Poptropica Islands are free to play, and each represents a unique theme and challenge. Kids can stay up to date on news about upcoming new Islands and other exciting developments in the world of Poptropica on the official Poptropica blog.
About Poptropica (http://www.poptropica.com)
Poptropica is a virtual world in which kids explore and play in complete safety. Every month, millions of kids from around the world are entertained and informed by Poptropica's engaging quests, stories and games.
Kids create a "Poptropican" character to travel the many Islands of Poptropica and use gaming literacy to enjoy a narrative that is often rooted in factual history. Problem-solving skills are honed as kids discover and solve mysteries unique to each Island.
There are always new areas to explore in this ever-expanding world where kids can collect objects, read digital books and comics, watch movies and compete in head-to-head competition. Parents can always trust that their children are playing – and learning – in a safe online environment.
Poptropica is published by Family Education Network, a part of Pearson, the education, services and technology company.